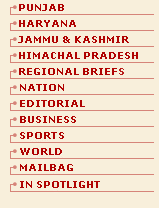 Sunday, March 24, 2002, Chandigarh, India
Updated at 3:00 am (IST)


PDS price for APL families cut
Clear power dues, Centre warns states
New Delhi, March 23
The Union Cabinet today announced several measures, including reduction in central issue price for foodgrains meant for Above Poverty Line by Rs 100 per quintal for three months to liquidate the surplus foodstock of around 58 million tonnes. The Cabinet also decided to extend by another six months the tenure of Justice Nanawati Commission of Inquiry probing the 1984 anti-Sikh riots.
Advani's five terms for talks


Gurgaon, March 23
India today reaffirmed that normalcy could be restored with Pakistan only if Islamabad passed a five-point "litmus test" laid down by New Delhi.


In video (28k, 56k)

CAST YOUR VOTE
Should Gujarat CM Narender Modi be removed?