SAD keeps silent on Modi
But wants Amarinder's resignation
Chandigarh, April 15
Accusing the Punjab Chief Minister of "misusing the process of law and the state machinery" in "unleashing a reign of terror and oppression in the state", the Political Affairs Committee of the Shiromani Akali Dal today asked him to quit as " he has rendered himself unfit constitutionally and morally to remain the Chief Minister".
Forces to stay: Fernandes
New Delhi, April 15
As Defence Minister George Fernandes today ruled out a review of the deployment of forces along the border, the Chief of Air Staff, Air Chief Marshal S. Krishnaswamy, said the armed forces were determined and ready to respond "in a sensible way" to any challenge from across the border.
In Education today

THE TRIBUNE MAGAZINES
On Mondays

On Sundays
On Saturdays

IN PASSING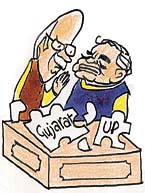 Which puzzle would you like to solve first, Gujarat or UP?

by Sandeep Joshi
In video (28k, 56k)




Defence Minister George Fernandes congratulates Marshal of the Indian Air Force Arjan Singh on his 83rd birthday in New Delhi on Monday.
— PTI photo
Air China plane crashes, 128 feared dead
Seoul, April 15
An Air China passenger aircraft ploughed into a wooded South Korean mountain in heavy rain and fog today, killing many of the 166 persons on board. The number of survivors fell to 39 at 1115 GMT (1645 hrs IST), a South Korean rescue official said.
Bank strike today
New Delhi, April 15
Protesting against the Centre's "anti-labour and privatisation policies", bank employees will go on a day's nationwide strike tomorrow, which is likely to cause a loss of over Rs 100 crore to the national economy.



| | |
| --- | --- |
| LUDHIANA: Residents of Ludhiana city and at least of 40 villages in the district are forced to consume contaminated vegetables and drink unsafe water, thus exposing themselves to water-borne diseases. The villages are situated along Budha Nullah. | The water of the Sutlej changes colour after the discharge of industrial waste into it from the Budha Nullah in Ludhiana. |
TDP stops short of withdrawal
April 15, 2002

Remove Modi, insists TDP
April 14, 2002

BJP returns to 'Hindutva'
April 13, 2002

Ban on LTTE to stay
April 12, 2002

Ultras massacre five
April 11, 2002

PM wants security framework for Asia
April 10, 2002

7 villagers massacred
April 9, 2002

BJP-BSP tie-up in UP on cards
April 8, 2002


CPI wrests Malout seat
April 7, 2002


Vajpayee suggests more powers for panchayats
April 6, 2002