NCM team to visit Gujarat

Image India: as French scribe sees it
New Delhi, April 30
Upset over the developments in Gujarat, a French journalist has blamed foreign media for India's bad image in the West by describing as 'nonsense' propagation of India as an intolerant Hindu majority.
Initial results favour Pervez
Islamabad, April 30
Initial results from a referendum in Pakistan today indicated that an overwhelming majority of voters approved another five-year term as President for General Pervez Musharraf.
In Health Tribune today

THE TRIBUNE MAGAZINES
On Mondays

On Sundays
On Saturdays

IN PASSING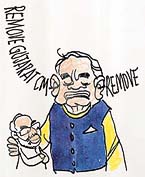 by Sandeep Joshi
FOLLOW-UP
Governor seeks PPSC chief's sack
Sends sealed letter to President Narayanan
Chandigarh, April 30
The Punjab Governor, Lt-Gen. J F R Jacob (Retd.), today sent a formal communication to the President of India on the "misbehaviour'' of Mr Ravi Sidhu as Chairman of the Punjab Public Service Commission and has sought his "removal'' under Article 317 of the Constitution of India.
Vigilance nabs Kairon's aide
Class III employee amassed property worth Rs 10 cr
Amritsar, April 30
The Vigilance Department arrested Nirmal Singh Bajwa, alias Nimma, district president of the Patwar Union and confidant of Mr Adesh Partap Singh Kairon, a former minister (son-in-law of Mr Parkash Singh Badal, a former Chief Minister) during a surprise raid conducted by Mr Tejinder Paul Singh Sandhu, Superintendent of Police, late last evening.
Terrorists' training on contract
Move to hoodwink USA
Jammu, April 30
Under a new strategy, Pakistani agencies, especially the ISI, have been given the task of training youths in the handling of highly sophisticated weapons and explosives to contractors. These contractors, according to reports reaching here from across the border, have been entrusted with the task of running arms training camps, providing lodge and board facilities and assisting trained guerrillas to sneak into Jammu and Kashmir.
Paswan quits, parts ways with NDA
April 30, 2002

Fernandes, Modi lead peace march
April 29, 2002

Decks cleared for BSP-BJP govt
April 28, 2002

Sinha relents, gives sops to salaried class
April 27, 2002

Mayawati to be UP CM
April 26, 2002

Sidhu helped people at Badal's behest: Jagman
April 25, 2002

Censure move on Gujarat admitted
April 24, 2002

Ahluwalia sacked as VC
April 23, 2002

13 killed, curfew in Gujarat areas
April 22, 2002

NDA not a divided house: Vajpayee
April 21, 2002