Scam generated Rs 1,000 crore?
Chandigarh, May 2
The investigation wing of the Income Tax Department of the North-West Circle has initiated a process to unearth an estimated Rs 1,000 crore of black money generated through the cash-for-job scam of the Punjab Public Service Commission.
Sidhu's remand extended till May 17
Ropar, May 2
The Additional Sessions-cum-Special Judge, Ropar, Mr A.S. Kathuria, today extended the judicial remand of PPSC Chairman Ravinder Pal Singh Sidhu till May 17. The judicial remand of Surinder Kaur, another co-accused in the case, was also extended till May 17.
THE TRIBUNE MAGAZINES
On Mondays

On Sundays
On Saturdays

IN PASSING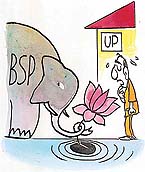 Is it an admirer of lotus or is this its favourite food ?
by Sandeep Joshi
New US visa rule not to hit genuine visitors


CLOSE ties bind India and the USA. There are about two million people of Indian origin in America. They are US citizens, participants in American commerce, students at university or visitors. It is because of this constant interchange that there has been keen interest in the proposed new visa regulations by the US Immigration and Naturalisation Service.
7 jawans killed in explosion
Jaipur, May 2
Seven Army personnel were killed and four injured when landmines they were unloading from trucks at a firing range near the Indo-Pakistan border in Rajasthan exploded, the police said here today.
Woman in labour, doc at farewell
Deputy Commissioner seeks report
Jalandhar, May 2
The tall claims of the state government with regard to providing better health care services to the people notwithstanding, a Scheduled Caste pregnant woman had to face hardship in delivering a child on Tuesday morning.


Badal, SAD MLAs to stay away
Vidhan Sabha golden jubilee celebrations
Chandigarh, May 2
Another chance of formal exchange of pleasantries between the Punjab Chief Minister, Capt Amarinder Singh, and the former Chief Minister, Mr Parkash Singh Badal, will be missed at the historic function in the Punjab Vidhan Sabha tomorrow.
Censure move defeated in LS
May 2, 2002

Oppn guns for Modi
May 1, 2002

Paswan quits, parts ways with NDA
April 30, 2002

Fernandes, Modi lead peace march
April 29, 2002

Decks cleared for BSP-BJP govt
April 28, 2002

Sinha relents, gives sops to salaried class
April 27, 2002

Mayawati to be UP CM
April 26, 2002

Sidhu helped people at Badal's behest: Jagman
April 25, 2002

Censure move on Gujarat admitted
April 24, 2002

Ahluwalia sacked as VC
April 23, 2002

13 killed, curfew in Gujarat areas
April 22, 2002