THE TRIBUNE MAGAZINES
On Mondays

On Sundays
On Saturdays

What a fall! rue lawmakers
Chandigarh, May 3
Veteran and new legislators today expressed concern over the diminishing respect for politicians, falling standards of political debates and rising political corruption that had become a way of life in the country.
88-year-old Ranbir Singh is honoured by Uttaranchal Governor Surjit Singh Barnala during the Golden Jubilee celebrations of the Punjab Legislative Assembly on Friday. — Photo Pankaj Sharma
Blackwill skirts Indians' concern
US Ambassador Robert Blackwill must be complimented for seeking to allay the concerns of thousands of Indians regularly visiting the USA on tourist and business visas following the new regulations recently announced by the US Immigration and Naturalisation Service that may limit the duration of stay to 30 days instead of the earlier six-month period.
In Sports Tribune today

IN PASSING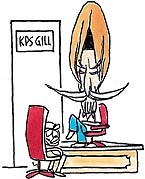 by Sandeep Joshi
Former VC evades arrest
Patiala, May 3
Ousted Vice-Chancellor of Punjabi University Dr Jasbir Singh Ahluwalia is proving to be elusive even as more than 12 senior police officers have been deputed to catch him across four states and in the union territory of Chandigarh.
Saroj Rani suspended
Patiala, May 3
Punjabi University today suspended Dr Saroj Rani, Head, Fine Arts Department, and relieved department technical assistant Jaspal Singh of duty on the ground that both had been detained on a criminal charge.


Don't disclose confessions: HC
Order to plug leaks in Sidhu case
Chandigarh, May 3
Issuing notice of motion to Punjab's Advocate-General, Mr Justice K. S. Garewal of the Punjab and Haryana High Court today "completely prohibited" the state of Punjab, the investigating agency and other respondents from disclosing the details of the statements and confessions of the accused, besides the contents of the case diaries.

Punjab page


Shamsher to throw light on PPSC affairs?


Sidhu's remand upheld


Police remand till May 7 for Dhira


Oppn rips off govt on Gujarat
May 3, 2002

Censure move defeated in LS
May 2, 2002

Oppn guns for Modi
May 1, 2002

Paswan quits, parts ways with NDA
April 30, 2002

Fernandes, Modi lead peace march
April 29, 2002

Decks cleared for BSP-BJP govt
April 28, 2002

Sinha relents, gives sops to salaried class
April 27, 2002

Mayawati to be UP CM
April 26, 2002

Sidhu helped people at Badal's behest: Jagman
April 25, 2002

Censure move on Gujarat admitted
April 24, 2002