Haryana ministers' cellphones go silent
Chandigarh, May 4
Haryana ministers' cellular phones have stopped ringing. And they have no clue to the reasons behind their "mobile silence". The attempt to connect the ministers on their mobile phones is met with a computerised response: "This number does not exist".
Designer blames crashes on lack of trainers
MiG-21 still airworthy: Air Marshal
Moscow, May 4
In the wake of a high number of pilots and aircraft lost by the Indian Air Force in peace time due to MiG-21 crashes, a top Russian aircraft designer has blamed the absence of an intermediate jet trainer for the catastrophic rate of accidents.
THE TRIBUNE MAGAZINES
On Mondays

On Sundays
On Saturdays

IN PASSING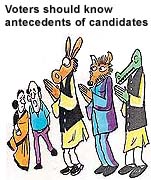 Now we have the freedom to select persons of our choice!
by Sandeep Joshi
No N-plant, says Amarinder
Hydel power plant possible
Paonta Sahib, May 4
Ruling out the possibility of a nuclear generation plant in the state, the Punjab Chief Minister, Capt Amarinder Singh, said his government would instead explore the possibility of a joint venture with the Uttaranchal Government in hydel power generation.
Mayawati to prove majority on May 17
Lucknow, May 4
The Chief Minister of Uttar Pradesh, Ms Mayawati, will prove her majority on the floor of the House on May 17. The decision in this regard was taken at the maiden Cabinet meeting held here today.
Hizb ultras gun down 5 villagers
Jammu/Srinagar, May 4
Militants killed nine civilians, including two brothers, and tried to blow up vehicles of security personnel with an improvised explosive device (IED) in separate incidents in Jammu and Kashmir since last night, a police spokesman said today.


Little help for traumatised
Jalandhar, May 4
Even as six injured persons were discharged yesterday after nine persons, who had suffered severe burn injuries when the Bank of Rajasthan building had got converted into an inferno after crashing of a MiG-21 into it, had to be shifted to Christian Medical College and Hospital (CMC) at Ludhiana after providing them first aid late last night for lack of facilities have to treat the burn patients.
8 die in MiG-21 crash
May 4, 2002

Oppn rips off govt on Gujarat
May 3, 2002

Censure move defeated in LS
May 2, 2002

Oppn guns for Modi
May 1, 2002

Paswan quits, parts ways with NDA
April 30, 2002

Fernandes, Modi lead peace march
April 29, 2002

Decks cleared for BSP-BJP govt
April 28, 2002

Sinha relents, gives sops to salaried class
April 27, 2002

Mayawati to be UP CM
April 26, 2002

Sidhu helped people at Badal's behest: Jagman
April 25, 2002

Censure move on Gujarat admitted
April 24, 2002