THE TRIBUNE MAGAZINES
On Mondays

On Sundays
On Saturdays

IN PASSING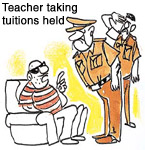 What! You have come to arrest me. Do I look like someone who takes tuition?

by Sandeep Joshi
Former minister booked
SAS Nagar, May 17
A former PWD Minister in the previous Akali Government, Mr Sucha Singh Langah, was last night booked by the Punjab Vigilance Department for allegedly possessing assets disproportionate to his known sources of income.
CM writes to HC for sparing sitting judge
Chandigarh, May 17
Punjab Chief Minister Amarinder Singh today said that he had written to the Chief Justice of Punjab and Haryana High Court seeking sparing of a sitting judge to head a commission of inquiry to probe acts of omission and commission during the tenure of previous government.
Mayawati wins trust vote
Lucknow, May 17


The Mayawati-led BSP-BJP coalition government in Uttar Pradesh today comfortably passed the first trial of strength in the state Assembly winning the vote of confidence with six votes more than the 211 MLAs whose support she had claimed before being invited to form the government.


Eviction can be sought for construction: SC
New Delhi, May 17
The Supreme Court has held that a landlord could seek eviction of a tenant on the ground that the rented portion needed demolition for the construction of more residential premises. "The useful utilisation of the property which would on demolition and reconstruction make available more space to be occupied by human beings for residential or non-residential purposes and the genuine desire of the landlord to earn economic advantages are relevant factors pointing to the bona fides of the requirement," the court said.
Time for action, says Army Chief
May 17, 2002


Badal sought UPSC berth for Sidhu
May 16, 2002

Militants massacre 23 kin of Army men
May 15, 2002

India to expose Pak mischief
May 14, 2002


12 killed in UP rail accident
May 13, 2002


NDA leaves it to Vajpayee
May 12, 2002

Police overhaul in Ahmedabad
May 11, 2002

Jaguar crashes at Ambala
May 10, 2002

'Right to information cannot be curtailed'
May 9, 2002

Jaswant scoffs at foreign prescription
May 8, 2002