More IAF squadrons deployed
Jammu, May 20
Following reports that more than 12,000 Pakistani troops have been deployed in the "thrust area" across Poonch and Rajouri sectors, the IAF has received the thumbs-up signal with the deployment of additional squadrons in the Northern Command.
Ghandhi Western Air Command AOC-in-C


New Delhi, May 20
In a strongest possible signal from the government till now of taking action against Pakistan for its continued support to cross-border terrorism, a key position was filled in the Indian Air Force today by appointing Air Marshal A.R. Ghandhi as the AOC-in-C of the strategic WAC.
In Education Tribune today

THE TRIBUNE MAGAZINES
On Mondays

On Sundays
On Saturdays

IN PASSING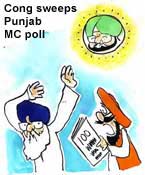 Badal Sahib, it's time to consult this book — 100 ways to avoid sunstroke!

by Sandeep Joshi
Pak moves troops to Sutlej-Ravi corridor
New Delhi, May 20
Over the past three days, Pakistan is reported to have moved the major part of its strategic reserve corp based in frontier town of Peshawar to bolster its defences facing India on the Ferozepore-Ganganagar sector.
Badal flays Cong, calls PAC meeting
May announce indefinite morcha
Chandigarh, May 20
Shell-shocked by developments during the past few days, including the stunning defeat of the SAD-BJP alliance in the municipal corporation elections and the murder of the party's Vidhan Sabha candidate from Valtoha and six others yesterday, the Shiromani Akali Dal chief, Mr Parkash Singh Badal, has convened an emergency meeting of the PAC of his party at Kalgidhar Nivas here on May 23 at 10 a.m.
Minister booked in Gurdial murder case
Amritsar, May 20
Even as the Tarn Taran police has conducted a series of raids to nab those involved in the sensational broad daylight murder of Senior Akali leader and five others, two persons whose names figured in the FIR today surrendered in the judicial court, at Patti.


Paramilitary forces on LoC, border under Army control
May 20, 2002


Pak told to recall High Commissioner
May 19, 2002


Nation committed to end Pak-backed terrorism
May 18, 2002


Time for action, says Army Chief
May 17, 2002


Badal sought UPSC berth for Sidhu
May 16, 2002

Militants massacre 23 kin of Army men
May 15, 2002

India to expose Pak mischief
May 14, 2002


12 killed in UP rail accident
May 13, 2002


NDA leaves it to Vajpayee
May 12, 2002

Police overhaul in Ahmedabad
May 11, 2002