THE TRIBUNE MAGAZINES
On Mondays

On Sundays
On Saturdays

IN PASSING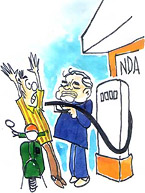 Be brave! You will have to face many more hikes in future!!
by Sandeep Joshi
War sirens installed in Jammu
Pak constructs spring top bunkers along LoC
Jammu, June 3
In view of the heightened tension on the Indo-Pak border, the Jammu administration has installed 15 war sirens in different parts of the city and its outskirts to warn the people of any aerial attack by Pakistani forces in case a war breaks out between the two nations.


In video: Officials beef up security in and around railway station in Jammu. (28k, 56k)

Mahajan, Shourie lock horns
New Delhi, June 3
A tug of war between Disinvestment Minister Arun Shourie and Communication Minister Pramod Mahajan over the VSNL decision to invest Rs 1200 crore in Tata Teleservices is likely to have serious consequences with some heads rolling after the return of Prime Minister Atal Behari Vajpayee from his Almaty visit.



Jind, June 3
Bowing to the pressure of the Bhartiya Kisan Union (BKU), the Haryana Government has apparently released one of the top BKU leaders from prison to facilitate an agreement with the BKU.
Congressmen and their leaders stage a dharna in front of the DC office in favour of agitating farmers at Jind on Monday. Seen in the picture are Mr Bhupinder Singh Hooda, Mr Virender Singh and Ms Selja. — Tribune photo Karam Singh

Dismiss Chautala, says Congress


Hold talks with farmers: Bansi
NCR Tribune:


BJP to take up issue with PM


INLD to counter BKU stir politically
PM to talk with Putin and Zemin, but not Musharraf
June 3, 2002


13 Pak troops killed
June 2, 2002


61 pc of Kashmiris want to remain with India
June 1, 2002


Heavy shelling by Pak
May 31, 2002

Stop terrorism, says UK
May 30, 2002

Pak 'epicentre' of terrorism
May 29, 2002
Pak not exporting terror
May 28, 2002
Fulfil pledge, PM tells Pervez
May 27, 2002
Pak test-fires Ghauri
May 26, 2002
Time not ripe for war: Congress
May 25, 2002