BRIDES WANTED

GROOMS WANTED

OTHERS

OBITUARY

HOW TO PLACE ADVTS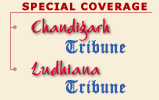 Nitish threatens to quit
Advani to take up railway issue with PM
New Delhi, July 9
Union Railway Minister Nitish Kumar's stout resistance to referring the bifurcation of Eastern Railway to an experts committee headed by Deputy Prime Minister L.K. Advani has the portends of blowing beyond a Samata Party-Trinamool Congress confrontation in the ensuing monsoon session of Parliament.
High Court says no to panchayat poll
Existing members can continue till August 2003
Chandigarh, July 9
Nearly four months after coming to power, the Punjab Government today suffered its first major setback when Mr Justice Jawahar Lal Gupta and Mr Justice N. K. Sud of the Punjab and Haryana High Court ruled, "the mere fact that the Congress party has won the elections to the Assembly cannot mean that the elections to gram panchayats have to be held afresh".
Israeli sensors along LoC
Jammu, July 9
Israeli equipment has succeeded in detecting infiltration of militants from across the border in Jammu and Kashmir. The thermal images system, imported from Israel, has been installed at several places in the Poonch, Rajouri, R. S. Pora, Samba, Uri, Kupwara and Kargil sectors to detect ingress.