Haryana Chief Secretary replaced in absentia
A.N. Mathur occupies the hot seat


Chandigarh, July 11
The Haryana Government today replaced its Chief Secretary, Mr L.M. Goyal, while he is abroad. He is scheduled to return tomorrow. The government also reshuffled 10 other IAS officers and three HCS officers.
Capt wants to shed PPCC post


Chandigarh, July 11
Sensing the growing skepticism and politico-administrative drift, Capt Amarinder Singh has decided to respond decisively. As a first step, he has asked the party high command to relieve him as President of the PPCC.
In Arts Tribune today

THE TRIBUNE MAGAZINES
On alternate Mondays

On Sundays
On Saturdays

IN PASSING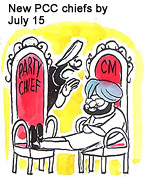 Are you not comfortable, Sir?
by Sandeep Joshi
Dullo frontrunner for PCC chief's post
New Delhi, July 11
Mr Shamsher Singh Dullo, MP, tops the list of names being considered by the Congress high command for appointment as PCC chief in Punjab even as several DCC chiefs met Congress President Sonia Gandhi today demanding that Punjab Chief Minister Amarinder Singh be allowed to continue as Congress chief.

Punjab page: Sonia urged to let CM continue as PPCC chief
Takht, SGPC on collision course?
Amritsar, July 11
In an unprecedented move, the SGPC has constituted a two-member committee to look into the alleged complaints of moral turpitude against Baba Dhanwant Singh of the Noor Vishav Roohani Charitable Trust, who has already completed his 'tankha' pronounced by Akal Takht, a few days ago.
Punjab's search for Vice-Chancellors
Chandigarh, July 11
While no name has yet been finalised for appointment as Vice-Chancellor of Punjabi University, Patiala, another slot falls vacant tomorrow when the present Vice-Chancellor of Baba Saheb Ambedkar Technical University, Jalandhar, H.S. Gurum, retires.

Appointments made by Soch to be probed


Toll tax drives trucks off the road
Doraha, July 11
The movement of goods in the state was affected today as transporters went on a day's token strike in protest against the imposition of toll tax on National Highway No. 1 from Doraha to Delhi. Transporters from all over the state arrived in the city and went in procession to the venue of the protest — an open stretch of land facing the toll tax booths on the highway.
PM for consensus on labour reforms
July 11, 2002

Alexander quits
July 10, 2002

Parties reject EC order
July 9, 2002

Thousands bid adieu to Ambani
July 8, 2002

Buddhadeb meets Advani
July 7, 2002

Sukh Ram gets 3-yr RI
July 6, 2002

Mamata seeks PM's intervention
July 5, 2002

PM in a bind on Mamata issue
July 4, 2002

Parleys on to rope in Mamata
July 3, 2002

Shatrughan, Jana, Verma inducted into Cabinet
July 2, 2002

Jaswant Singh to be new Finance Minister
July 1, 2002