THE TRIBUNE MAGAZINES
On alternate Mondays

On Sundays
On Saturdays

IN PASSING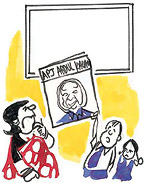 Sorry, ma'am, this was the only book available in the market!
by Sandeep Joshi
Shoot-at-sight orders in Ranchi
Ranchi, July 26
With shoot-at-sight orders and curfew in vogue, the 24-hour Jharkhand bandh called by anti-domicile groups was by and large peaceful today in contrast to violence-marred shutdowns in the past one week. Curfew was extended this morning to Sukhdevnagar and Argora areas while Doranda, Hatia and Jagannathpur police station localities were already under curfew since yesterday.


In video (28k, 56k)


Editorial: Turmoil in Jharkhand
Plan to shut down 11 branches in Secretariat
Chandigarh, July 26
As the Punjab Government sets in motion the process of restructuring various departments, employees are preparing to open another front against the government.



Kar seva 'wipes out' treasure of frescoes
Tarn Taran, July 26
The majestic fort in which Baba Bir Singh gurdwara is located at Naurangabad village, 5 km from here, has a number of beautiful frescoes of freedom fighters, Sikh Gurus and Hindu deities which are a feast for the eyes. The gurdwara is situated on the old GT road which used to connect New Delhi with Lahore.


One of the invaluable frescoes at Gurdwara Baba Bir Singh at Naurangabad (Tarn Taran).
— Tribune photo Rajiv Sharma
Kalam sworn in as President
July 26, 2002

Centre unveils package for drought-hit
July 25, 2002

No Central rule in Gujarat: Advani
July 24, 2002

Gujarat issue rocks LS, RS
July 23, 2002

Centre to impose Governor's rule in J&K
July 22, 2002

BJP asks Cong to clear stand on Gujarat poll
July 21, 2002

USA rejects Pak plebiscite demand
July 20, 2002

Kalam elected President
July 19, 2002

Ultras may target J&K leaders, Parliament, SC
July 18, 2002

Opposition attacks govt on ways to end terror
July 17, 2002

Death to Sheikh Omar
July 16, 2002