AGRICULTURE

EDUCATION

HEALTH

SCIENCE

CAREER GUIDE

SPORTS

HER WORLD

TRIBUNE CLASSIFIEDS


BRIDES WANTED

GROOMS WANTED

OTHERS

HOW TO PLACE ADVTS

Oppn trains guns on PM
New Delhi, August 8
Stung by the disclosures of the government yesterday, the Congress today stepped up its campaign in Parliament today paralysing both the Houses for the fourth consecutive day over the petrol station allotment issue.


In video (28k, 56k)



BJP releases yet another list


Cong ready for probe into scam


Editorial: Break the impasse
Shivani murder case
IGís wife blames BJP feud
Seeks PMís intervention, CBI probe
Panchkula, August 8
Madhu, wife of Mr Ravi Kant Sharma, IPS, who is the main suspect in the Shivani murder case, today urged the Prime Minister to intervene and transfer the investigation of the case to the CBI so that the complete truth could come out.

In video (28k, 56k)
Crime branch to quiz Kantís wife, daughters

Madhu, wife of Inspector-General Ravi Kant Sharma, flanked by her two daughters ó Komal (left) and Pragati ó addresses a press conference at Panchkula on Thursday.
ó Tribune photo
Haryana declared drought-hit
Govt seeks Rs 1,100 crore from Centre
Chandigarh, August 8
The Haryana Government today declared the entire state as drought-affected and announced a package of relief and remedial measures for the farmers and demanded Rs 1100 crore from the Centre.



Worse drought since 1987: Ajit


New Delhi, August 8
Union Agriculture Minister Ajit Singh said today that almost entire country had been affected by the drought and the situation was worse than the one experienced in 1987.

In video (28k, 56k)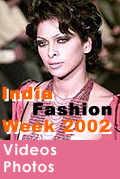 In Career Guide today