THE TRIBUNE MAGAZINES
On alternate Mondays

On Sundays
On Saturdays

IN PASSING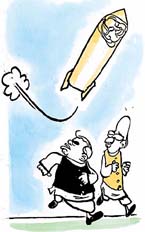 Thank God, the missile is now in the right orbit !

by Sandeep Joshi

Graphic: Veerappan's area of operation


Editorial: Veerappan strikes again
Geete, Verma inducted into Cabinet
New Delhi, August 26
Prime Minister Atal Behari Vajpayee today effected a minor reshuffle in the Union Cabinet filling the vacancy caused by the Shiv Sena's Suresh Prabhu by bringing his party colleague Anant Geete in his place as a Cabinet Minister.
Violence by students, NIT closed
Hamirpur, August 26
The local National Institute of Technology, known as Regional Engineering College has been closed for indefinite period following incidents of stone throwing, burning of government property and damage to the vehicles of the faculty members last night.

Damaged cars of the NIT staff in Hamirpur.
Notice to two Punjab officials
Siphoning off of industrial subsidy
Chandigarh, August 26
In just over six years after the Punjab and Haryana High Court took a serious note of a news item appearing in The Tribune, Mr Justice Jawahar Lal Gupta and Mr Justice S.S. Grewal today directed the issuance of a notice to the then Punjab Director of Industries and Commerce D.S. Kalha, besides the then Additional Director Sanjay Kumar, to show cause why directions for criminal prosecution should not be given.


President okays poll Ordinance
August 26, 2002
Cabinet returns poll Ordinance to Kalam
August 25, 2002
India gives clear message to Armitage
August 24, 2002

First-phase J&K poll notified
August 23, 2002

SAARC agrees on combating terror
August 22, 2002

SC gets presidential reference on Gujarat
August 21, 2002

J&K poll on schedule
August 20, 2002

EC's order referred to President
August 19, 2002

BJP says EC creating constitutional crisis
August 18, 2002

Pramod to file defamation suit
August 17, 2002

We will defeat terrorism: PM
August 16, 2002