THE TRIBUNE MAGAZINES
On alternate Mondays

On Sundays
On Saturdays

IN PASSING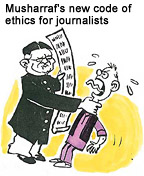 I don't want to pressurise you!

by Sandeep Joshi

"Ravi Kant flees country"
New Delhi, September 2
The Delhi High Court today reserved its order on the bail application of Haryana cadre IPS officer R.K. Sharma after the police told the court that the accused had fled the country.
Delhi cops on Sharma trail in Solan
Solan, September 2
A team of Delhi Police headed by Assistant Commissioner of Police the Hemant Chopra, was in town today. The team was spotted closeted with Mr V.P. Saini, Junior Telecom Engineer, in charge of the local Telegraph Office, in his office at 2.30 pm today.

Cops question driver of Ravi Kant

Dhindsa's plan to stop organ sales
New Delhi, September 2
Union Minister Sukhdev Singh Dhindsa, who leaves for London tomorrow, said today that he would urge the British authorities to chalk out a joint plan to combat organ sales after a sting operation in the UK linked them to his home state of Punjab.

Editorial: Selling body parts


Ultimatum to Vedanti, Manjit
Khalsa Panchayat wants Jathedars to quit
Amritsar, September 2
The Shiromani Khalsa Panchayat served a 10-day ultimatum to Giani Joginder Singh Vedanti, Jathedar of Akal Takht, and Prof Manjit Singh, Jathedar of Kesgarh Sahib, to resign from their respective posts.
APHC defers decision
September 2, 2002

Bail-out package for UTI
September 1, 2002

Plot to kill Gujarat CM
August 31, 2002
No time-limit to stop infiltration: Pervez
August 30, 2002
SC stays decision on petrol stations
August 29, 2002
Work restored to 3 HC judges
August 28, 2002
SC notices to Centre, EC, states & parties
August 27, 2002
President okays poll Ordinance
August 26, 2002
Cabinet returns poll Ordinance to Kalam
August 25, 2002
India gives clear message to Armitage
August 24, 2002