THE TRIBUNE MAGAZINES
On alternate Mondays

On Sundays
On Saturdays

IN PASSING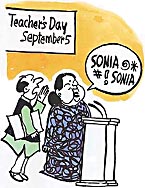 Madam, will you please say something on Teacher's Day also?
by Sandeep Joshi
Manisha moves NCW
Files appeal in Mumbai HC


New Delhi, September 4
Having failed to get a favourable court verdict, actress Manisha Koirala today moved the National Commission for Women, seeking its intervention to stop the screening of "Ek Chhoti Si Love Story". Accusing producer Shashilal Nair of "breach of contract", the actress indicated that she could also move the Supreme Court on the issue.
50 Dalits forced to vacate houses
Mehru (Jalandhar), September 4
Nearly 50 Dalit families have been driven out of their houses by the administration and the police allegedly for voting for the SAD-BJP which had built them 12 one-room pucca houses under the Indira Awaas Yojana, when the combine ruled the state.
BCCI asks ICC to talk to players
Kolkata, September 4
After failing in its attempts to persuade top Indian cricketers, the Board of Control for Cricket in India today washed off its hands on the contract issue asking the International Cricket Council to negotiate with the players currently in England.


15,000 posts of teacher lying vacant
Punjab has 63.80 lakh illiterates
Chandigarh, September 4
The number of illiterates in Punjab, the number two state as far as the per capita income is concerned, is on the increase. And the government admits it. This is the situation when the entire country is trying its best to be in the hightech education mode. The number of illiterates in 1991 was 62.39 lakh who now add up to 63.80 lakh.
Jacob likely to replace Bhandari in Gujarat
September 4, 2002

SC stands by EC order
September 3, 2002

APHC defers decision
September 2, 2002

Bail-out package for UTI
September 1, 2002

Plot to kill Gujarat CM
August 31, 2002
No time-limit to stop infiltration: Pervez
August 30, 2002
SC stays decision on petrol stations
August 29, 2002
Work restored to 3 HC judges
August 28, 2002
SC notices to Centre, EC, states & parties
August 27, 2002
President okays poll Ordinance
August 26, 2002
Cabinet returns poll Ordinance to Kalam
August 25, 2002