THE TRIBUNE MAGAZINES
On alternate Mondays

On Sundays
On Saturdays

IN PASSING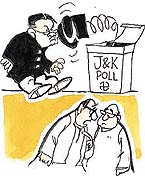 The General was only trying to see what comes out of the box.
by Sandeep Joshi
No hint about Indian troop pullout: Pervez
Islamabad, September 17
Pakistan President Pervez Musharraf today said there was no indication from India about the withdrawal of its troops from the border, but envisaged "some movement" in this regard after the completion of the ongoing Assembly elections in Jammu and Kashmir.
SHSAD quits Panthic Morcha
Amritsar, September 17
The Sarb Hind Shiromani Akali Dal (SHSAD) today made a formal announcement to withdraw itself from the Panthic Morcha, headed by Baba Sarbjot Singh Bedi. The morcha comprised five Akali factions before the crucial Majitha byelection.
PAP commando repulsed two attacks before dying
Jarnail to be recommended for gallantry award, brother also promised police job
Bathinda, September 17
Mr Mohinder Singh Chahal, Commandant, 5th Battalion of the Punjab Armed Police, who is on poll duty in the Poonch sector of Jammu and Kashmir, today disclosed that militants equipped with modern weapons and having military training made three attacks on the polling booth at Sur Gosain village in Poonch district where one of the commandos, Jarnail Singh laid down his life while repulsing the attack.



Punjab page: PAP jawan cremated with honours


Four-year-old Puneet Singh looks on as the body of his father Jarnail Singh, a commando of 5th Battalion of the PAP, who laid down his life on Monday protecting the polling staff from militants in Poonch sector of Jammu and Kashmir, is consigned to flames in Bathinda on Tuesday.
— Photo Kulbir Beera
Vajpayee rejects LoC as international border
September 17, 2002

Polling in 23 J&K constituencies today
September 16, 2002

Stop infiltration, Bush tells Pervez
September 15, 2002

Vajpayee unmasks Musharraf's duplicity
September 14, 2002

Firing at Lone's funeral
September 13, 2002

Homage at Ground Zero
September 12, 2002

Ultras kill J&K Law Minister
September 11, 2002

Rajdhani jumps track,
100 feared dead
September 10, 2002

Modi kicks off gaurav yatra
September 9, 2002

BCCI ultimatum to players
September 8, 2002