THE TRIBUNE MAGAZINES
On alternate Mondays

On Sundays
On Saturdays

IN PASSING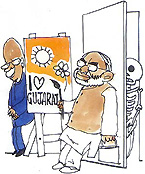 by Sandeep Joshi
Tohra's volte-face on Panthic Morcha
Guru Ki Dhab (Faridkot), September 18
The SHSAD President, Mr Gurcharan Singh Tohra, today did a volte face on his party's separation from the Panthic Morcha, claiming that his party was a part of the Panthic Morcha which had decided to launch a movement to form a "real" Akali Dal to wrest power from the Congress in the next Assembly elections.
Finish SAD, exhorts Ramoowalia
Faridkot, September 18
The Lok Bhalai Party will give top priority to the eradication of unemployment and nepotism if voted to power in Punjab. It will also take measures to separate religion from politics, which was being misused by certain political parties, particularly Akali factions.



Capt meddling in Sikh affairs: Badal
Guru Ki Dhab (Faridkot), September 18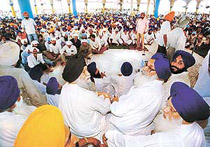 Mr Parkash Singh Badal, President of the SAD, today alleged that the Chief Minister, Capt Amarinder Singh, was trying to endanger the communal harmony in Punjab by interfering in Sikh religious matters.

Mr Parkash Singh Badal, Capt Kanwaljeet Singh, Mr Tota Singh, Mr Sukhbir Singh Badal and other Akali Dal leaders sit at the annual "Jor Mela" at Guru Ki Dhab in Faridkot district on Wednesday.
— Photo Kulbir Beera

Grenade attack on Cong HQ
September 18, 2002

Vajpayee rejects LoC as international border
September 17, 2002

Polling in 23 J&K constituencies today
September 16, 2002

Stop infiltration, Bush tells Pervez
September 15, 2002

Vajpayee unmasks Musharraf's duplicity
September 14, 2002

Firing at Lone's funeral
September 13, 2002

Homage at Ground Zero
September 12, 2002

Ultras kill J&K Law Minister
September 11, 2002

Rajdhani jumps track,
100 feared dead
September 10, 2002

Modi kicks off gaurav yatra
September 9, 2002