THE TRIBUNE MAGAZINES
On alternate Mondays

On Sundays
On Saturdays

IN PASSING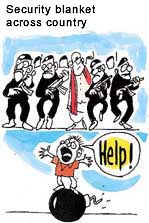 by Sandeep Joshi
EC must adhere to statutory obligation: Centre
New Delhi, September 26
The Centre argued before the Supreme Court today that the Election Commission must adhere to the constitutional obligation of the President and the Governor to summon the legislature within six months of its last sitting while fixing a poll schedule.
MSP for paddy retained at Rs 530
New Delhi, September 26
Brushing aside the demand for a hike in MSP for paddy, the Government today retained the MSP of ordinary paddy at the previous year level of Rs 530 per quintal and of Grade 'A' at Rs 560 per quintal.

Punjab Chief Minister Amarinder Singh and PPCC President H.S. Hanspal along with other senior party leaders court arrest while demonstrating in front of the Prime Minister's residence on Thursday.
— Tribune photo

Punjab page: MSP disappointing, says Badal

LMA-Munjal award for Hari Jaisingh
Chandigarh, September 26
The LMA-Dyanand Munjal award for "excellent performance in creating public awareness towards an informed society" will be presented to Mr Hari Jaisingh, Editor, The Tribune, at the 24th annual day function of the Ludhiana Management Association (LMA) on September 29 at Ludhiana, Mr Rajinder Gupta and Mr V.K. Goyal, President and General Secretary of the LMA, respectively, announced today.
OPINION POLL
Valley residents reject Pak
New Delhi, September 26
Virtually nobody in Kashmir, even in Srinagar or Anantnag, wants the valley to go to Pakistan, says an opinion poll conducted in Jammu and Kashmir last week, which also feels the National Conference has a lead over other parties in the current Assembly elections.


Tral voters, candidates terror-struck
Tral, (Pulwama), September 26
In the Tral Assembly segment of Pulwama district, contesting elections is a mistake and winning one even worse. Termed the Kandahar of Kashmir, Tral is considered the "extreme hard target" of Jaish-e-Mohammad and Hizbul Mujahideen militants, who inhabit the hilly areas surrounding its 108 villages.
Surinder Singh of the Congress is the only candidate out of three who has dared to start campaigning in Tral, considered to be a hot spot, in Pulwama. — Tribune Photo Amin War
In Career Guide today

Army deployed in Gujarat
September 26, 2002

Ultras storm Gujarat temple, kill 30
September 25, 2002

Ultras kill cop, take 3 hostage on poll eve
September 24, 2002

Diplomatic efforts to bring back Abu Salem
September 23, 2002

Efforts on for Abu's extradition
September 22, 2002

Salem nabbed in Lisbon
September 21, 2002

Militants attack school
September 20, 2002

Return presidential reference, pleads EC
September 19, 2002

Grenade attack on Cong HQ
September 18, 2002

Vajpayee rejects LoC as international border
September 17, 2002