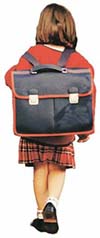 Should you send your child to a hostel?
At some point many parents debate whether they should send children to boarding schools or not. Some see admitting their children to boarding schools as an abrogation of their duties; others feel it gives the children good exposure and helps to build their confidence. Gitanjali Sharma meets a cross-section of individuals on both sides of the fence.
How to prepare a child for hostel
UNSUNG HEROES
He prepared the exiled Maharaja to wrest back his lost empire
G.S. Aujla
WHILE tracing the history of the freedom movement of India, little importance has been attached to the efforts made both by Maharaja Duleep Singh, exiled in Britain, and his cousin Sardar Thakar Singh Sandhawalia in India to free their motherland from the British.
RARE PASSION
He has artefacts of 7th century BC
Ruchika M. Khanna
RAVI BHASIN, a property dealer by profession and antique collector by choice, has been a collector and connoisseur of antiques for the past 40 years. He has been relentlessly collecting ancient coins, artefacts, earthen statues and metal ware, some of which even date back to the first century BC.
ARTISTES WHO INSPIRE
A celebrated choreographer
Aditi Tandon
CELEBRATED dancer and choreographer Narendra Sharma chose to adhere to his guru Pt Uday Shankar teachings, which advocated: "Human body is a miracle. Explore it and there is no end."
ZEROING IN ON...
The man behind Bombay Vikings
Dharam Pal
NEERAJ SHRIDHAR'S (Bombay Vikings) name might not ring an instant bell as a singer, but when one thinks about his hit albums Kya Soorat Hai and Woh Chali, one knows that he is among the few good singers who have an appealing voice.