M A I N N E W S
5 ultras killed in Bangalore
Plot to assassinate Advani, Joshi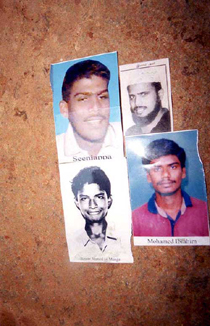 Four of the five militants who were shot dead in a joint operation of Karnataka and Tamil Nadu police in Bangalore on Sunday. — PTI photo
Bangalore, September 29
In a pre-dawn operation, hardcore militant Imam Ali, who plotted to assassinate Deputy Prime Minister L.K. Advani and Union Human Resource Development Minister M.M. Joshi, and his four aides, including a woman, were shot dead by the police at their hideout here.
Commandos from the Tamil Nadu and Karnataka police stormed the house where Ali, mastermind of the Chennai RSS office bomb blast that claimed 14 lives, and his associates were holed up and mowed them down in a gunbattle that left 13 policemen wounded, the police said.
Ali was the leader of the so-called Al-Mujahideen group having links with Pakistan's ISI.
Zeroing in on the house, the commandos asked Ali, whom the police had been hunting for the past seven months after his dramatic escape while in transit from court to jail in Tamil Nadu, and his associates to surrender but they opened fire.
Lobbing teargas shells, the commandos then broke into the house and fired back, killing Ali and four others. The operation lasted 90 minutes.
Ali, an expert in bomb-making and founder of the Al-Mujahideen group which operated in tandem with Kerala-based extremist outfit Al-Umma, was trained by the Hizbul Mujahideen in Jammu and Kashmir in 1991 and by the ISI in Bangladesh in the operation of sophisticated weapons, Mr Ashutosh Shukla, DIG, Coimbatore, said.
Mr Advani was on the hit list of Ali who had "somehow" missed assassinating Mr Joshi in Ahmedabad in July and had planned to set off blasts in Tamil Nadu temples to trigger communal disturbances, he said.
"It (plot to kill Advani) is confirmed by the state and central intelligence," Mr Shukla said, adding the VHP international president Ashok Singhal was also a target.
An AK-47 rifle, a country made revolver, detonators, explosives and literature on IEDs were seized. PTI