THE TRIBUNE MAGAZINES
On alternate Mondays

On Sundays
On Saturdays

Skeleton under staircase
Bhucho Mandi (Bathinda), September 29
A man kills his wife, digs a pit in his house and places the body in it. The pit is concealed by making a concrete flooring. Stairs are constructed over the spot to evade the detection of the crime.

Ferry disaster toll may cross 700
Dakar, September 29
At least 350 persons are known dead and about the same number remain missing after a ferry sank off west Africa, including nationals from at least 10 countries, the Prime Minister's office said.


Ethics, change key to success
Ludhiana, September 29
Adherence to ethics, value-based business, achieving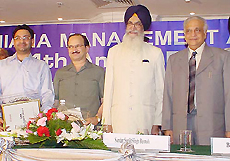 excellence and change as key to success in the emerging trend of e-leadership were the issues that were mainly dwelt upon at the 24th annual day function of the Ludhiana Management Association here today.
The Ludhiana Management Association (LMA) presented awards for excellence to the Editor of The Tribune, Mr Hari Jaisingh (extreme right), and two noted industrialists — Mr Nirmal Kumar Jain (second from left) and Mr Kanwar Deep Singh (extreme left) — at the 24th Annual Day function of the LMA held in Ludhiana on Sunday. Uttaranchal Governor Surjit Singh Barnala, who gave away the awards, is also in the picture. — A Tribune photograph

10-day police remand for R.K. Sharma
September 29, 2002

Temple attackers were Pakistanis
September 28, 2002

Stray incidents mark bandh
September 27, 2002

Army deployed in Gujarat
September 26, 2002

Ultras storm Gujarat temple, kill 30
September 25, 2002

Ultras kill cop, take 3 hostage on poll eve
September 24, 2002

Diplomatic efforts to bring back Abu Salem
September 23, 2002

Efforts on for Abu's extradition
September 22, 2002

Salem nabbed in Lisbon
September 21, 2002

Militants attack school
September 20, 2002