THE TRIBUNE MAGAZINES
On alternate Mondays

On Sundays
On Saturdays

IN PASSING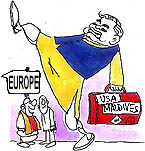 One day he may get a gold in long jump!

by Sandeep Joshi
ANALYSIS
Volte-face on PSU sell-off
New Delhi, October 7
The logjam over the disinvestment of public sector undertakings has transcended beyond economic attributes of a structured privatisation process and has only helped in engineering a vertical split in the country's political establishment.
Medicine Nobel for 2 Britons, American
Stockholm, October 7
Sydney Brenner and Sir John Sulston of the UK and Robert Horvitz of the USA won the 2002 Nobel Prize in Medicine today for work on how genes regulate organ development and cell death.
Vajpayee in Cyprus
Nicosia, October 7
Prime Minister Atal Behari Vajpayee arrived here today on a three-day visit to Cyprus.


In video (28k, 56k)


Restoring Takht glory
Amritsar, October 7
The ongoing kar seva is unlikely to restore the two-and-a-half-century old ivory mosaic work, 'gach', a sort of stone or gypsum priceless murals, naqqashi and paintings, depicting mythological scenes which was destroyed in January 1986 when radical Sikhs pulled down the magnificent structure of

A picture of bright and synthetic colours used for painting the ceiling of Akal Takht. — Photo Rajiv Sharma
Akal Takht following the 'sarbat khalsa'.
Bid on candidate's life
October 7, 2002

PM lays out tough reforms
October 6, 2002

10 militants killed
October 5, 2002

Nine militants shot
October 4, 2002

Fresh wave of violence in J&K
October 3, 2002

6 jawans die in blast
October 2, 2002

Security umbrella for 3rd phase poll
October 1, 2002

STF back in barracks
September 30, 2002

10-day police remand for R.K. Sharma
September 29, 2002

Temple attackers were Pakistanis
September 28, 2002