THE TRIBUNE MAGAZINES
On alternate Mondays

On Sundays
On Saturdays

IN PASSING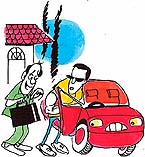 Going to a party tonight, Sir. Better keep 20-30 lakhs with you!
by Sandeep Joshi
Sharma's counsel moves court against Delhi cops
Beenamol, Bahadur clinch gold
Busan, October 8
Ace middle-distance runner K. M. Beenamol and the experienced Bahadur Singh led an Indian resurgence by picking up a gold each as the athletes scooped up six medals on the second day of the showpiece athletics event in the 14th Asian Games here today.
Cyprus extends unequivocal support to India
Nicosia, October 8
India today found a strong ally in Cyprus, which supports its political and diplomatic objectives, as Prime Minister Atal Behari Vajpayee held intensive talks with Cypriot President Glafkos Clerides on the second day of an official visit here.
CPI-Amarinder feud deepens
Chandigarh, October 8
The ongoing feud between the Punjab CPI and Chief Minister Amarinder Singh escalated today. Countering Capt Amarinder Singh's statement with regard to CPI Secretary Joginder Dayal, the top brass of the CPI said today that "the party was not in the habit of taking orders from other parties regarding its internal affairs. It need no sermons with regard to secularism, communalism and capitalism, especially from Capt Amarinder Singh".


Original drawings offered
Akal Takht restoration
Amritsar, October 8
Hundreds of original drawings of frescos, including that of Hindu Gods and Bhagats, which disappeared when the Radicals pulled down the structure of Akal Takht, are in the treasured possession of descendents of Bhai Gian Singh, who belongs to the lineage of naqqashs.
15 Independents float party
October 8, 2002

Bid on candidate's life
October 7, 2002

PM lays out tough reforms
October 6, 2002

10 militants killed
October 5, 2002

Nine militants shot
October 4, 2002

Fresh wave of violence in J&K
October 3, 2002

6 jawans die in blast
October 2, 2002

Security umbrella for 3rd phase poll
October 1, 2002

STF back in barracks
September 30, 2002

10-day police remand for R.K. Sharma
September 29, 2002