THE TRIBUNE MAGAZINES
On alternate Mondays

On Sundays
On Saturdays

IN PASSING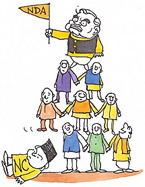 This verdict is not against the Central Government, Atal ji !

by Sandeep Joshi
PM in London to hold talks
London, October 11
Prime Minister Atal Behari Vajpayee arrived here tonight for talks with his British counterpart Tony Blair centering around the issues of terrorism, elections in Jammu and Kashmir, Indo-Pak stand-off and the Iraq crisis.
Faleiro seeks scrutiny of military deals
New Delhi, October 11
Defence Minister George Fernandes today came under attack from former Union Minister Eduardo Faleiro, who demanded a scrutiny of all military deals by a joint committee of Parliament, especially the "agreement" to purchase six Scorpene Class submarines from a French consortium which is also selling submarines to Pakistan.
Pherurai's brother held
Ludhiana, October 11
Gurmail Singh, a brother of former Ferozepore SSP Gurcharan Singh Pherurai, was nabbed today morning from Barsal village near Sidhwan Bet by the Jagraon police. He had been evading arrest.
Bridge collapse forces road closure
Bathinda, October 11
The busy Bathinda-Sriganganagar highway (NH-15) had to be closed to traffic after the makeshift diversion collapsed last night. The road is likely to remain closed to traffic for 45 days and an 8-km-long diversion via villages has been created.


Consensus eludes MSP resolution
SAD, BJP members walk out of House
Chandigarh, October 11
Political consensus eluded the Punjab Vidhan Sabha members today on a resolution that "indicted" the Central Government on announcing the minimum support price for paddy and date of commencement of procurement.



House adjourns


Voters reject NC; Omar humbled
October 11, 2002
Copters, jawans tighten cordon
October 10, 2002

Voters defy the bullet
October 9, 2002

15 Independents float party
October 8, 2002

Bid on candidate's life
October 7, 2002

PM lays out tough reforms
October 6, 2002

10 militants killed
October 5, 2002

Nine militants shot
October 4, 2002

Fresh wave of violence in J&K
October 3, 2002

6 jawans die in blast
October 2, 2002

Security umbrella for 3rd phase poll
October 1, 2002