THE TRIBUNE MAGAZINES
On alternate Mondays

On Sundays
On Saturdays

IN PASSING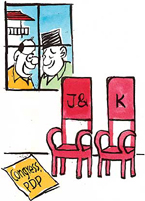 Bifurcation, not trifurcation, is the only solution!

by Sandeep Joshi

Pak-N Korea nuke nexus


World page: Pak did supply N-arms material
BSNL cell services launched
Outgoing call to cost Rs 1.20
Lucknow, October 19
Bharat Sanchar Nigam Ltd today announced the lowest tariffs for its countrywide GSM mobile services, launched here by Prime Minister Atal Behari Vajpayee, with an outgoing call costing just Rs 1.20 and a low monthly rental of Rs 225.


In video (28k, 56k)


Loaded with bonanza, BSNL to go mobile next week
Chandigarh page

3-day police remand for Garcha
PTU Director arrested, ex-VC booked
Jalandhar, October 19
The Duty Magistrate, Mr H.S. Gill, today sent former state Technical Education Minister and SAD MLA, Mr Jagdish Singh Garcha, in three days' police remand.
Punjab VIP aircraft grounded
Patiala, October 19
The Punjab Government, which prefers Pawan Hans Helicopter on lease for Rs 20 lakh per month to its own King Air C-90 air craft has let the aircraft grounded at Delhi for want of a pilot.


SGPC men go into hiding
Chandigarh, October 19

"We have left our homes as we were virtually under house arrest at our native places in Punjab. Police and other top civil officers have been harassing us regarding the election of the President of the SGPC", said 25 odd pro- Badal members of the SGPC, who have

Pro-Parkash Singh Badal SGPC members, who have taken shelter at Gurdwara Nada Sahib in Haryana on Saturday.
— A Tribune photograph
taken shelter at various religious places in Haryana.

Badal under pressure to change SGPC chief
Punjab page

Decision to freeze DA, bonus deferred
October 19, 2002

Governor's rule in J&K
October 18, 2002

CCS okays troop withdrawal
October 17, 2002

Ultimatum to Cong, PDP
October 16, 2002

Cong, PDP adamant
October 15, 2002

J&K poll turning point: Advani
October 14, 2002

Congress, PDP talks make some headway
October 13, 2002

Independents hold key
October 12, 2002

Voters reject NC; Omar humbled
October 11, 2002