15 hostages, including 8 children, freed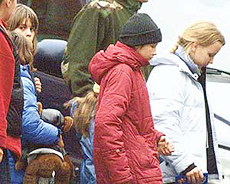 Moscow, October 25
Chechen separatists holding 700 theatre-goers hostage in Moscow have threatened to start executing them early tomorrow if their demands are not met, a press officer with the theatre told AFP, quoting a hostage.

A young girl (left) holds her teddy bear as she walks with other children hostage released by Chechen guerrillas out of a theatre in Moscow on Friday. — Reuters photo

THE TRIBUNE MAGAZINES
On alternate Mondays

On Sundays
On Saturdays

IN PASSING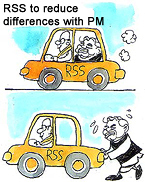 by Sandeep Joshi

30 crorepati Pherurai
24 relatives, friends booked
Jagraon, October 25
The Jagraon police today announced that former SSP Gurcharan Singh Pherurai has made startling disclosures about important persons in the state during his interrogation and these would be revealed to the public at an appropriate time only.

SHIVANI MURDER CASE
Sharma charged with murder
New Delhi, October 25
Three days after Ravi Kant Sharma's judicial custody was extended, the Delhi police today filed the charge sheet in the journalist Shivani Bhatnagar murder case and pointed out that suspended Haryana IG (Prisons) Sharma was the prime accused in the case.


Justice Gupta CJ of Kerala High Court
Chandigarh, October 25
Punjab and Haryana High Court Judge Mr Justice Jawahar Lal Gupta has been appointed Chief Justice of the Kerala High Court by the President of India.


Paddy floods Punjab mandis
Chandigarh, October 25
Punjab is heading for a new record of paddy production despite drought. The state has already crossed the 100 lakh tonne mark. Starting from September, 107.28 lakh tonnes of paddy had arrived in various grain markets till last evening. Out of this, 88.07 lakh tonnes has been procured by the government agencies and 12.63 lakh tonnes by private traders from October 1, the official date for starting procurement.
Theatre of terror: 700 held hostage
October 25, 2002

Mufti relents; talks in Delhi tomorrow
October 24, 2002

Pak nuclear scientists in touch with Al-Qaida
October 23, 2002

Deadlock continues
October 22, 2002

Manmohan hopeful
October 21, 2002

Manmohan to hold talks with Mufti
October 20, 2002

Decision to freeze DA, bonus deferred
October 19, 2002

Governor's rule in J&K
October 18, 2002

CCS okays troop withdrawal
October 17, 2002

Ultimatum to Cong, PDP
October 16, 2002