THE TRIBUNE MAGAZINES
On alternate Mondays

On Sundays
On Saturdays

ASEAN backs PM on free trade area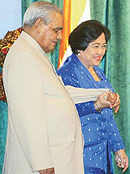 Phnom Penh, November 5
In a major initiative to boost trade and economic ties with South-East Asian countries, the Prime Minister, Mr Atal Behari Vajpayee, today asked the ASEAN grouping to establish a free trade area with India in the next 10 years and announced greater tariff concessions to its lesser developed members - Myanmar, Cambodia, Laos and Vietnam.


In video (28k, 56k)
Indonesian President Megawati Sukarnoputri assists Prime Minister Atal Behari Vajpayee off the stage after a group-photo of ASEAN leaders at their inaugural summit in Phnom Penh on Tuesday.
— Reuters photo

Five more Dalits convert
Rohtak, November 5
In a continued fallout of the Jhajjar lynchings, five more Dalits reportedly embraced Buddhism on Divali in protest against the Hindu practice of "casteism and untouchability'' at a conversion ceremony at a temple in Meham town of Haryana.
Rehman to head coalition in Pak
Islamabad, November 5
Overcoming her reservations, former Pakistan Prime Minister Benazir Bhutto has reportedly okayed top Islamic cleric Maulana Fazlur Rehman as the Prime Ministerial candidate to head a coalition government comprising religious and moderate political parties opposed to President Pervez Musharraf.
Time for jatha to Pakistan running out
New Delhi, November 5
Even as the Vajpayee government is "actively considering" the request for granting permission to a jatha to visit Nankana Sahib in Pakistan to celebrate the birth anniversary of Guru Nanak on November 19, leaders of the Sikh community are becoming anxious that time for making preparations may be running out.


USA may soon be out of bounds for Asians
Chandigarh, November 5
If the sharp decline in the number of visas granted by the US Embassy in India after the September 11, 2001, terrorist attack and the proposed legislation requiring Canadian landed immigrants from most Commonwealth countries, including India, Pakistan, Sri Lanka and Banglades, to get visas are any indication, the USA may virtually soon be out of bounds for Asians in general and Indians in particular.
Return of Pandits top priority: Mufti
November 4, 2002

Kelkar for 1 lakh as IT exemption limit, 2 slabs
November 3, 2002

SP stakes claim to form government
November 2, 2002

Keep off admissions to MEIs, SC tells govt
November 1, 2002

Mufti invited to form govt
October 31, 2002

RBI cuts bank rate, CRR
October 30, 2002

Gujarat poll on Dec 12
October 29, 2002

Mufti to scrap POTA
October 28, 2002

Mufti to be CM
October 27, 2002

PM vows to crush Pak monster
October 26, 2002

Theatre of terror: 700 held hostage
October 25, 2002

Mufti relents; talks in Delhi tomorrow
October 24, 2002