Monday, November 11, 2002, Chandigarh, India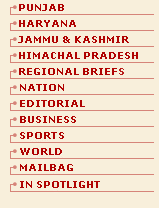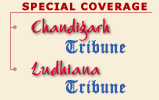 B U S I N E S S
Y O U R M O N E Y
A GUIDE TO PERSONAL FINANCE
How to transfer property through will
AN act of taking over the ownership of the title of the assets and property left by a deceased by his legal heirs after his demise is known to be the transfer by succession. Generally, as per prevailing law of the land, the ownership of the title of the property left by the deceased is transferred in the name/s of his legal heirs after duly verifying their antecedents.
PREPARING FOR RETIREMENT
Cover your health
GOOD health is essential to enjoy a fulfilling retired life. Good planning for a retired life not only involves a sound financial backup for this period, but also needs investment in good health that will minimise expenses at a time when every penny matters.
Medi-Claim

Bhavishya Arogya

Jan Arogya Policy
| | | |
| --- | --- | --- |
| | CHECKOUT | |
Consumers can seek compensation for delays
IN a recent order, the apex consumer court has upheld the right of the consumer to seek compensation from housing agencies for delays in construction, even after taking possession of the house.
SEBI board approves delisting report
November 10, 2002
Industrial policy and state of industry
November 9, 2002
RBI defines 'wilful defaulter'
November 8, 2002
Political debate overshadows selloff process
November 7, 2002
RIL acquires Niko stake in 10 oil blocks
November 6, 2002
Online lottery mania grips youth
November 4, 2002
Microsoft deal with US govt gets nod
November 3, 2002
RBI liberalises foreign exchange facilities
November 2, 2002
Reliance Ind net grows 25 pc
November 1, 2002
SBI net profit shoots up 34 pc
October 31, 2002
Cabinet approves 10th Five-Year Plan
October 30, 2002