THE TRIBUNE MAGAZINES
On alternate Mondays

On Sundays
On Saturdays

IN PASSING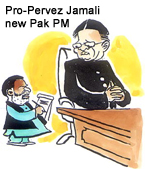 Sir, I am very good at shorthand and typing also!

by Sandeep Joshi
Race attack on UK Sikh leads to tension
London, November 22
A Sikh councillor's son was hit on the head with baseball bats after he stepped in to save his turban-wearing friend from a gang of Muslim attackers. Goodmayes Ward councillor Satnam Singh believes it is not the first time the gang has hunted and assaulted Sikh youths and is calling on Muslim leaders to condemn the attacks.
Charges framed against Sidhu


Ropar, November 22
The court of Special Judge here today framed charges against Ravinderpal Singh Sidhu, former Chairman of the Punjab Public Service Commission, in the trap and disproportionate asset cases registered against him by the Punjab Vigilance Bureau at SAS Nagar.
Sirsa observes near-total bandh
Probe into scribe's death sought
Sirsa, November 22
A bandh was observed by various commercial, social and educational institutions in Sirsa as a mark of respect to local journalist R.C. Chhaterpati, who passed away yesterday after a 27-day struggle for life in Apollo Hospital, Delhi.

NCR page: Journalists clamour for arrest of Sirsa-based dera head
11 dead as bus falls into gorge
Shimla, November 22
Eleven persons were killed and 23 injured, five of them seriously, when a private minibus fell into a gorge from the Hindustan-Tibet road at Spillo in Kinnaur district last evening.



WITH THE JATHA IN PAKISTAN
Pak plans law on Sikh shrines
Lahore, November 22
The Government of Pakistan is contemplating an Act on the pattern of the Sikh Gurdwara Act, 1925, for "better management" of gurdwaras in this country, the demand of the SGPC to disband the PSGPC notwithstanding. Talking to TNS here today, Mr Manmohan Singh Khalsa, Chairman, World Muslim-Sikh Federation and Dal Khalsa leader claimed that Mr Khalid Ranjha, Union Law Minister, had assured a delegation of Sikh representatives that the constitution of the PSGPC was being finalised.
POTA on hold in J&K
November 22, 2002

A go-by to House decorum
November 21, 2002
Modi opts for 'safe' Maninagar seat
November 20, 2002
Cong Gujarat list sans Vaghela
November 19, 2002
SC Judge to examine cases against 3 HC Judges
November 18, 2002
Togadia's entry banned
November 17, 2002
VHP rejects PM's appeal
November 16, 2002
VHP firm on yatra
November 15, 2002
EC bans VHP yatra
November 14, 2002
Badungar re-elected SGPC chief
November 13, 2002