THE TRIBUNE MAGAZINES
On alternate Mondays

On Sundays
On Saturdays

IN PASSING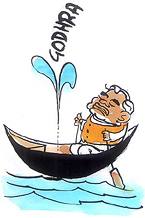 Modi, I am here to help you!

by Sandeep Joshi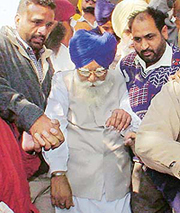 VB unearths promotion scam
Accuses Gurdev Badal of perpetrating it
Ludhiana, December 2
The Ludhiana Vigilance Bureau has claimed unearthing of a promotion scam that allegedly took place in the state agriculture department during the tenure of the sitting MLA and former Agriculture Minister Gurdev Singh Badal between 1997 to 2002.
Gurdev Singh Badal comes out of a district courtroom in Ludhiana where he was produced by the Vigilance Bureau on Monday.
— Photo Pradeep Tiwari

Delimitation deferred
Shimla, December 2
The ongoing process of delimitation of Assembly and Parliamentary constituencies, which caused much turmoil in the state on the eve of election, has been finally deferred.
PPCC LIST


Sonia assures changes
Amritsar, December 2
Certain Congress members of Parliament and senior leaders from Punjab today met Ms Sonia Gandhi, president, Indian National Congress, at New Delhi to apprise her about the 'tampering' with the list of office-bearers of Punjab Pradesh Congress Committee, announced by state party chief, Mr H.S. Hanspal.
Bhattal in Capital, to meet Sonia


New Delhi, December 2
Punjab Agriculture Minister Rajinder Kaur Bhattal arrived in the Capital today to meet Congress president Sonia Gandhi and other AICC leaders over the Amarinder government's filing a challan against her in a Chandigarh court after she got a reprieve in the embezzlement case following orders of a court in Bathinda.

Mufti meets PM, ministers
New Delhi, December 2
Jammu and Kashmir Chief Minister Mufti Mohammed Sayeed today met Prime Minister Atal Behari Vajpayee and discussed the situation in the state for about 30 minutes.


Blackwill reaches Srinagar


Srinagar, December 2
The US Ambassador to India, Mr Robert Blackwill, arrived here this evening on the first leg of his three-day visit to Jammu and Kashmir. Soon after his arrival here, he was flown to the 15 Corps headquarters of the Army. Mr Blackwill had a meeting with senior civil and police officials about the prevalent situation in the valley.
In Education today

More temples may be targeted: PM
December 2, 2002
Advani dares Pak to fourth war
December 1, 2002

Ayodhya trial in Rae Bareily
November 30, 2002
50 ultras rearrested
November 29, 2002
Badal courts arrest, let off
November 28, 2002
Mufti acted against advice: Advani
November 27, 2002
Temple terror ends
November 26, 2002

Raghunath Temple attacked, 12 dead
November 25, 2002

12 die as militants blow up bus
November 24, 2002

7 CRPF men die in Lashkar attack
November 23, 2002

POTA on hold in J&K
November 22, 2002