THE TRIBUNE MAGAZINES
On alternate Mondays

On Sundays
On Saturdays

IN PASSING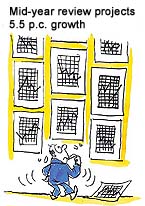 by Sandeep Joshi

Advani sees BJP wind in Gujarat


Himachal page: Sonia's Shimla rally on Dec 11

Gujarat VHP leader shot at, hurt seriously
Ahmedabad, December 3
Two motorcycle-borne gunmen shot at and wounded Gujarat VHP general secretary Jaideep Patel from point-blank range while he was travelling in a car near his house here this evening.
J&K mosque siege ends
Lashkar ultra surrenders
Srinagar, December 3
With the surrender of a militant of the Lashkar-e-Toiba, a 20-hour-long siege of a mosque in Achabal area of Anantnag district ended this afternoon. Elsewhere, at least nine persons, including five militants were killed and four injured in separate incidents of violence in Jammu and Kashmir.
Mufti seeks aid for 'healing touch'
New Delhi, December 3
In getting down to the task of "healing physical, psychological and emotional wounds" of the people of Jammu and Kashmir, Chief Minister Mufti Mohammad Sayeed has presented the Centre with a list of demands which would enable his government continue its "healing touch."

Blackwill lauds Mufti policy


J&K page: Robert Blackwill visits LoC
Malaysian HC moved
Hearing on plea in Bofors case today
Kuala Lumpur, December 3
The Malaysian authorities today moved the High Court here challenging a lower court verdict rejecting a plea for the extradition of Italian businessman Ottavio Quattrocchi to India to stand trial in the Bofors case.

Editorial: The ghost of Bofors


Uproar over Chief Engineer's transfer
Chandigarh, December 3
Anger is building up among engineers of the PSEB over the transfer of the Chief Engineer, Mr Padamjit Singh, who had been handling the crucial Department of System Operations, allegedly under pressure from a powerful private firm.
Setback for CBI in Bofors case
December 3, 2002

More temples may be targeted: PM
December 2, 2002
Advani dares Pak to fourth war
December 1, 2002

Ayodhya trial in Rae Bareily
November 30, 2002
50 ultras rearrested
November 29, 2002
Badal courts arrest, let off
November 28, 2002
Mufti acted against advice: Advani
November 27, 2002
Temple terror ends
November 26, 2002

Raghunath Temple attacked, 12 dead
November 25, 2002

12 die as militants blow up bus
November 24, 2002

7 CRPF men die in Lashkar attack
November 23, 2002