THE TRIBUNE MAGAZINES
On alternate Mondays

On Sundays
On Saturdays

IN PASSING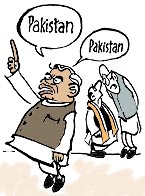 He is accusing Pakistan again and again. Is he warming himself up for Gujarat?

by Sandeep Joshi
Blackwill briefed on ultras
Ignores APHC leaders
Jammu, December 4
The American Ambassador to India, Mr Robert Blackwill, today held a detailed discussion with Lt-Gen T.P.S. Brar, GOC, 16 Corps, on the security situation in the light of terrorist activities in the Jammu region, even as he chose not to meet APHC leaders.

| | |
| --- | --- |
| | US Ambassador Robert Blackwill meets with Lt-Gen T.P.S. Brar, GOC, 16 Corps, at Jammu on Wednesday. |
Bhattal case: CM meets Mohsina
New Delhi, December 4
Punjab Chief Minister Amarinder Singh has told the Congress high command that the filing of the challan in the case against Punjab Agriculture Minister Rajinder Kaur Bhattal was inevitable and the state government could not have acted in any other manner.



Punjab page: Bhattal case: Judge gave no direction
Malaysian HC defers hearing in Bofors case
New Delhi, December 4
The Malaysian High Court today deferred till tomorrow the hearing on India's appeal against the order of the Sessions Court dismissing the extradition proceedings against controversial Italian businessman Ottavio Quattrocchi, wanted by the CBI in the Bofors gun deal scam.



Indian lawyers disallowed
Breakthrough in Lankan peace talks
Oslo, December 4
Sri Lankan peace talks have achieved a breakthrough with Colombo and the Tamil rebels taking up core political issues for the first time after agreeing on clearance of landmines and strengthening of truce, a negotiator said.


Sri Lankan delegation seeks India's intervention in the island peace talks. (28k, 56k)


Gallows for husband, friend
3 kids brutally murdered, wife raped
Patiala, December 4
A woman whose three children were murdered by her husband and his three friends got justice when a local fast-track court today awarded death sentence to her husband and one of his friends and life imprisonment to another.
In Science today

Putin arrives to forge new axis
December 4, 2002
Setback for CBI in Bofors case
December 3, 2002

More temples may be targeted: PM
December 2, 2002
Advani dares Pak to fourth war
December 1, 2002

Ayodhya trial in Rae Bareily
November 30, 2002
50 ultras rearrested
November 29, 2002
Badal courts arrest, let off
November 28, 2002
Mufti acted against advice: Advani
November 27, 2002
Temple terror ends
November 26, 2002

Raghunath Temple attacked, 12 dead
November 25, 2002

12 die as militants blow up bus
November 24, 2002