THE TRIBUNE MAGAZINES
On alternate Mondays

On Sundays
On Saturdays


BJP wins two LS, 3 Assembly byelections
New Delhi, December 15
As an icing on the party's spectacular show in the Gujarat Assembly elections, the BJP today romped home in two Lok Sabha seats, wresting one from the Congress, and made a clean sweep of three Assembly seats in Rajasthan in the December 12 bypoll spread across six states.
Graphic: POLL OUTCOME
Warrant against Yaseen Malik


Jammu, December 15
A designated POTA court here issued a non-bailable warrant against JKLF Chairman Yaseen Malik in the case of alleged smuggling of $ 1 lakh for funding militancy in J&K.
Another attack on Dalits
Panipat, December 15
Despite assurances by the district administration, the Dalits and the Muslims of Nawada Aar village, 22 km from here on the Haryana-UP border were attacked yet again yesterday allegedly by hooligans hired by the upper caste leaving five persons injured.
Shekhar lambasts foreign policy
Amritsar, December 15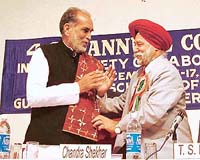 Criticising the foreign policy of the country, Mr Chandra Shekhar today emphasised the need to respond positively on the holding of the 12th summit of South Asian Association for Regional Cooperation which had been postponed by Pakistan indefinitely.
Dr S. P. Singh, Vice-Chancellor, Guru Nanak Dev University, presents a 'phulkari' to Mr Chandra Shekhar, a former Prime Minister, at the annual session of the Indian Society on Labour Economy on the university campus in Amritsar on Sunday. — photo Rajiv Sharma


President Kalam goes informal


Chennai, December 15
No stickler for protocol, President A.P.J. Abdul Kalam spoke and sang at the inauguration of the 60th annual music festival of the Tamil Isai Sangam here last night, sending the assembled gathering into raptures.
In Agriculture today

2 Pak ultras shot in Capital
December 15, 2002
Anees freed on bail
December 14, 2002
Heavy voter turnout in Gujarat
December 13, 2002
Day of reckoning for BJP, Cong
December 12, 2002
High-pitched campaign ends
December 11, 2002
HPCL, BPCL to go on the block
December 10, 2002
BJP ropes in Mayawati
December 9, 2002
Vajpayee hits campaign trail
December 8, 2002
N-nexus exposes murky details
December 7, 2002
Ex-minister Lone's brother shot dead
December 6, 2002
Dismantle terrorist units, Putin asks Pak
December 5, 2002