THE TRIBUNE MAGAZINES
On alternate Mondays

On Sundays
On Saturdays

IN PASSING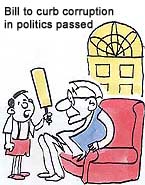 Dadaji, why don't you change your profession like playing cricket or...
by Sandeep Joshi
Strike by lawyers illegal: SC
Cannot be penalised for keeping away from strike
New Delhi, December 17
A day before the proposed nationwide strike by lawyers, the Supreme Court today came down heavily on them saying they have no right to go on strike, call for a boycott of the courts, or even go on a token abstention from court work.

Ex-Akali minister Sekhwan booked
Chandigarh, December 17
The Vigilance Bureau has registered a case against former Akali minister Sewa Singh Sekhwan at Jalandhar. In a statement here today the Vigilance Bureau said the case had been registered against Mr Sekhwan for misusing his authority in connivance with various other persons.
Bill on candidates' assets cleared
New Delhi, December 17
Parliament today approved the Representation of the People (Amendment) Bill, 2002, stipulating as part of poll reforms that a candidate after election should declare his or her assets to the presiding officer of the House.
Vidya Sagar's papers accepted
Shimla, December 17
The month-long drama over the resignation of Mr Vidya Sagar as Agriculture Minister on the issue of reservation for Other Backward Classes ended today when the Governor, Dr Suraj Bhan, accepted his resignation.
No place for Afsana in family: mother
Azimgarh (Abohar), December 17
Even as a pall of gloom has descended on the parental house of Navjot Sandhu, alias Afsana Guru, wife of Shaukat Hussain Guru, one of the accused in attack on Parliament House, who has been held guilty of concealing the plot from the police by a Delhi court yesterday, her mother hates to talk about her.
Navjot alias Afsana

Sentence in House attack case today
Editorial: Punishing terrorists


In Health Tribune today

13/12 attack: four convicted
December 17, 2002
Hindutva wins 2/3rds in Gujarat
December 16, 2002
2 Pak ultras shot in Capital
December 15, 2002
Anees freed on bail
December 14, 2002
Heavy voter turnout in Gujarat
December 13, 2002
Day of reckoning for BJP, Cong
December 12, 2002
High-pitched campaign ends
December 11, 2002
HPCL, BPCL to go on the block
December 10, 2002
BJP ropes in Mayawati
December 9, 2002
Vajpayee hits campaign trail
December 8, 2002