THE TRIBUNE MAGAZINES
On alternate Mondays

On Sundays
On Saturdays

IN PASSING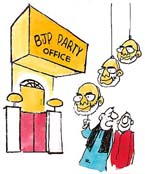 This mask is in great demand here, you see!

by Sandeep Joshi
Lawyers defy SC order, go on strike
New Delhi, December 18
Lawyers all over the country, except in Maharashtra and Goa, struck work today despite a Supreme Court order yesterday declaring their strikes "illegal".



Lawyers go on strike


Editorial: Unfortunate lawyers' stir
Modi invited to form govt
Ahmedabad, December 18
Gujarat Governor Sunder Singh Bhandari today formally invited designate Chief Minister Narendra Modi to form government.
PM announces relief for farmers
New Delhi, December 18


In an attempt to minimise the hardships of farmers in drought-hit states, Prime Minister Atal Behari Vajpayee today announced the government's decision to completely waive interest for one year on kharif loans taken by them.


Nation page: Gere opens Naz AIDS care home


Hollywood star Richard Gere with Anoushka Shankar, daughter of Pt. Ravi Shankar, during the opening of the Naz AIDS care home in New Delhi on Wednesday.
— Reuters photo
3 pc DA for Punjab staff
Chandigarh, December 18
The Punjab Chief Minister, Capt Amarinder Singh, today announced 3 per cent enhanced dearness allowance for its employees, pensioners and government-aided educational institutions with effect from July 1. The amount due from July 1 till December 31 shall be credited to the GPF Accounts of the employees and it shall be treated as additional subscription.
In Science Tribune today

2 Army officers killed in encounter
December 18, 2002
13/12 attack: four convicted
December 17, 2002
Hindutva wins 2/3rds in Gujarat
December 16, 2002
2 Pak ultras shot in Capital
December 15, 2002
Anees freed on bail
December 14, 2002
Heavy voter turnout in Gujarat
December 13, 2002
Day of reckoning for BJP, Cong
December 12, 2002
High-pitched campaign ends
December 11, 2002
HPCL, BPCL to go on the block
December 10, 2002
BJP ropes in Mayawati
December 9, 2002