THE TRIBUNE MAGAZINES
On alternate Mondays

On Sundays
On Saturdays
IN PASSING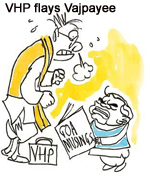 Sir, A for Atal, B for Bharteeyata....

by Sandeep Joshi
Mortar shelling by Pak troops

Editorial: War clouds over 2003
BJP to oppose Kelkar report
New Delhi, January 2
In a significant development having a bearing on the coming Union Budget, the Bharatiya Janata Party is seriously considering to oppose the contentious tax reform proposals to reduce and eliminate incentives for housing, small savings and standard deductions, pitting Finance Minister Jaswant Singh against his economic adviser Vijay Kelkar.
Vedanti opposes the orthodox
Pleads for kirtan by women in Golden Temple
Amritsar, January 2
Jathedar Akal Takht Giani Joginder Singh Vedanti today admitted that disallowing women devotees from participating in seva to clean sanctum sanctorum of the Golden Temple in the morning was against the tenets of Sikhism which did not preach discrimination on the basis of gender.
NSG, IAF help sought to nab Veerappan
New Delhi, January 2
The Centre today agreed to extend help to Karnataka and Tamil Nadu, including despatch of the elite National Security Guards (NSG) to nab Veerappan.
Petrol, diesel prices hiked
New Delhi, January 2
The prices of petrol will increase by more than a rupee across the country from midnight tonight as oil companies executed an upward revision of retail prices of the transportation fuel following strong increase in international prices of crude oil.


In Career Guide today
India, Pak exchange lists of N-installations
January 2, 2003
Shimla wears a white blanket
January 1, 2003

We were ready for war: Gen
December 31, 2002
Leh council gets full powers
December 30, 2002
Taliban shift bases to Pak: Advani
December 29, 2002
Kelkar retains harsh proposals
December 28, 2002
MiG crashes into house
December 27, 2002
'Swajaldhara' to take water to villages
December 26, 2002
Hindutva not poll issue: Vajpayee
December 25, 2002
Sajjan acquitted in '84 riots case
December 24, 2002
Modi back in saddle
December 23, 2002