Sunday, January 26, 2003
Tribune special
Can India be a superpower?
Yes, it can be!
Let's turn India into a land of opportunities
Hari Jaisingh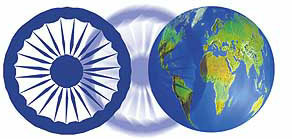 "INDIA is not just a piece of earth; she is power, a Godhead." This is how Sri Aurobindo looked at this country and its rich ancient civilisation. But all that he wanted fellow Indians to have was "the firm faith that India must rise and be great".
Herein lies the tragic gap between desire and action, between promise and performance; and between conduct in private life and public life of leaders.
Contradictions in the thinking, behaviour and approach of most Indians to men, matters and issues are sharp and glaring. No country can rise to the desired dizzy heights unless the gap between leaders and the led is functionally narrow and the people are well aware of the fact that the nation's image and its real strength is nothing but the sum total of their character and conduct at home and in public.
Do we qualify in this touchstone of strength or greatness?
The answer is a straight "no".
Indians overseas, whether in Singapore, Washington, New York or any other advanced country, behave differently. They work in a disciplined way and show a tremendous work culture, which makes them highly successful. But the same set of Indians become part of the flop show in the atmosphere of dirty politics, intrigues, money and muscle power, and high-handedness of the powers that be in our country.
Why is it so? We have to find the right answers to these basic problems. What we see are loose ends even in critical areas of governance and the prevailing negative mind-set that favours status quo.
In any case, the net result of the flawed system and visionless leadership is that somewhere along the line, the people's faith has got eroded by the debased value system.
Who is to blame for the ongoing drift? One school of thought puts the blame on the foreigners' invasion of India, which was dubbed as "evil".
Even Jawaharlal Nehru said: "Long subjection of a people brings many evils and perhaps the greatest of these lie in the spiritual sphere — demoralisation and sapping of the people."
Nehru had a point. However, I believe that we ourselves are responsible for the mess we are in today. I believe that Indians have all elements to take the country to the status of a superpower. All that is required is to rediscover our strength and to move forward harmoniously with well-focused determination and honesty.