Sunday, January 26, 2003
Tribune special
"India can be a major power if it improves the standard of living"
Prabhjot Singh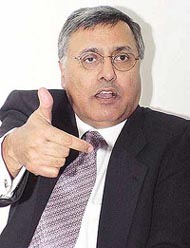 Ujjal Dosanjh
"NUCLEAR weapons alone can neither make India a superpower nor get it respect or status in the community of nations", says Ujjal Dosanjh, a former Premier of British Columbia (the first Indo-Canadian to hold the post). "What can make India a real superpower is its socio-economic development.
"I agree that possession of nuclear weapons as a deterrent is important. It has its own value but in terms of getting respect and earning the status of a superpower in the community of nations, it does not work.
"Those nations which are economically sound and have a strong social fabric with high standards of quality of life not only get respect but also face no threats from other nations," feels Dosanjh, currently on a visit to India.
Dosanjh, who hails from Dosanjh Kalan, near Phagwara, and moved to Canada as a teenager, is a lawyer by profession and headed the NDP Government in British Columbia. After the last provincial elections a couple of years ago, he quit politics and joined the law practice of his two sons.
He says his experiences of visiting his motherland in 1977, 1985, 1993 and 1999 have been "varied" and "nostalgic". "I strongly feel that we have a dishonest or numb society which does not react to growing dirt, filth, social inequalities and corruption.
"Unfortunately, there is no one who has come forward to fight these battles for the countrymen. The other day, I was reading a book by an American author about the contributions being made by certain NGOs in fighting battles against dirt, filth, illiteracy and corruption.