Getting the forces together
Determine that things can and shall be done, and then we shall find the way. —Abraham Lincoln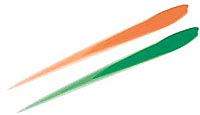 THE vision of a developed India can be realised only if we recognise that wealth generation and wealth protection are two sides of the same coin. A nation's wealth represents the sweat and hard work of its people. The famous Tamil poet Andal, who was regarded as one of the thirteen Vaishnavite Alwars, in her famous work Tiruppavai invokes the blessing of God to provide in plenty neengatha selvam (stable wealth) to the land. This is possible only with an integrated approach towards development. Granted planners look individually at the activities of various ministries and approve their action plans. However, if these proposals were to be looked at not in isolation but in the context of multiple-use planning, the benefits would multiply. Thus a technology, product or a service resulting out of a particular programme of a department/ministry should be mandated to be available to other departments/ministries at the stage of plan approvals. This would provide the needed integration at the planning stage. A similar approach needs to the put in place at other downstream activities. An integrated mission approach would permit interweaving of measures to generate wealth with similar steps for wealth protection. This is the hallmark of a developed country and hence the key to a developed India.
Another aspect of a developed country is global competitiveness of its industry. It is not only catering to the home market but also aiming for a large market outside it. Hence, its contribution to GDP is also very large. This is a prerequisite for India too in its development. Indian industry has to show the same competitiveness and innovation so that we can have our own multinationals.
Universal literacy and access to education for all is another fundamental requirement for a nation to be truly developed. Education would result in the creation of a large base of people who excel in various fields as well, an invaluable resource for any country.
At present, however, there is a high degree of asymmetry in the educational system. While there are many who aspire to higher education, quality institutions to impart this are few. This creates a large mismatch of demand and supply in quality manpower and is starkly evident in emerging sunrise areas such as information technology, biotechnology, environmental engineering and manufacturing technology. The economic liberalisation taking place will only intensify such demand in coming years. Moreover higher education has also to be made more relevant to industry and society, an aspect in which it is inadequate at present.
One solution lies in fostering institutions with expertise to industry and society. Some of the institutions which have excelled this far could provide templates for the new ones. Lastly, the solution should be implemented in a mission mode — only the mission objectives should be paramount and all else subservient to these objectives.
To develop to the desired level, industry also needs to recognise the importance of forward and backward linkages. Which linkages with bridging institutions such as think tanks, technical/consultancy services, other firms involved in similar activities as well as customers constitute the forward linkage, partnership with universities, R&D labs and technology-providing institutions would form the backward linkage. Investment in higher education is therefore crucial for forming this backward linkage which would serve as a springboard for Indian industry to make the jump to becoming a global player. We should not hesitate to take a fast decision for establishing twenty more IITs and medical institutions; whether they are promoted by Indian or foreign groups does not matter as long as the bottom line remains excellence.
On 15 October 2000 a website designed for me by friends in the Ponn Group was launched by the Infosys Chairman, N.R. Narayana Murthy, in the presence of Prof N. Balakrishnan of the IISc. Some of my friends asked me to post a few questions on the website. My questions were three. First: 'India has been a developing country for more than half a century. What would you as young boys and girls like to do to make it a developed India?' The second question was, 'When can I sing a song of India?' and the third , do we love anything foreign in spite of our capabilities in many fields, whereas other countries celebrate their own success?' My only stipulation was that the answer should come from youth aged under twenty.
More than a hundred answers and suggestions were received from within the country and abroad. Five of these answers are relevant here.
One young man from Chandigarh responded, 'I will become a teacher (rather, a professor of engineering) since I am good in, as well as enjoy, teaching and I believe that one of the best ways in which to serve one's nation is to be either a professor or a soldier...' A girl wrote from Pondicherry, 'A single flower makes no garland. I will... work for a garland leading to unity of minds, as this is needed for transforming India into a developed country.' A twenty-year-old youth from Goa responded, 'Like an electron ceaselessly moving in its orbit, I will work ceaselessly for my country, now onwards.
With reference to the second point I had raised, a young man from Atlanta wrote: 'When India becomes capable of imposing sanctions against any country, if they are needed, then I will sing a song of India.' What the young man meant was that economic strength brings prosperity accompanied by national strength. The fifth answer is actually something that 30 per cent of the respondents said: the need for greater transparency in various facets of our life. One crucial fact often overlooked is that India has a population of 700 million people below the age of thirty-five. These are 700 million people with the inclination, the ability and the enthusiasm to take the nation to greatness. It is a very big force for change indeed.
How can one ignite the young minds? How can one attract and involve the young in the task of nation building? Only a united vision launched with renewed vigour will bring the young force into action.
The subject of transparency and values brings to my mind Gandhiji. I happened to meet in Delhi his granddaughter, Sumitra Kulkarni. I asked her, 'Sumitraji, is there a particular incident (in respect of honesty in public life) that you always remember from your grandfather's life?
She narrated to me this story. 'Every day, as you all would have heard, Mahatma Gandhi had a prayer meeting at a fixed time in the evening. After the prayers there would be a collection of voluntary gifts for the welfare of harijans and others. The devotees of Gandhiji used to collect whatever was given by the people of all sections and this collection was counted by a few members suggested by Gandhiji. The amount so collected would be informed to Gandhiji before dinner. The next day, a man from the bank would come to collect the money for deposit.
'Once the man reported that there was a shortage of few paise in the money handed over to him and the amount informed to Gandhiji the previous night. Gandhiji, on hearing this, was so upset that he went on fast saying that this is a poor man's donation and we have no business to lose any of it.' This episode is a unique example of transparency in public life. Well, in the same country we are witnessing the best and the worst. We should all, particularly the young generation, launch a movement for a transparent India, just as our fathers fought for our freedom. Transparency is a cornerstone of development.
Excerpted from Ignited Minds, authored by A.P.J. Abdul Kalam