THE TRIBUNE MAGAZINES
On alternate Mondays

On Sundays
On Saturdays
IN PASSING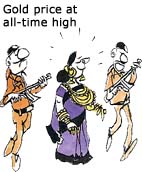 by Sandeep Joshi
14 schoolchildren go missing
29 mates found from farmhouse
Pojewal (Nawanshahr), January 28
As 14 of the 43 students of the local Jawahar Navodaya Vidyalaya, who had "left" the school under mysterious circumstances on January 25 night are still missing, their worried parents have started flocking the school to enquire about their wards.
Cabinet reshuffle today
New Delhi, January 28
A reshuffle of the Union Council of Ministers, with some inductions and exclusions, is going to take place tomorrow evening in which former Gujarat Chief Minister Keshubhai Patel may be inducted.
Cong sweeps panchayat samiti poll
Chandigarh, January 28
It was a cakewalk for the Congress in the elections to the posts of chairman and vice-Chairman of 140 block samitis in Punjab today.


Block samiti poll: infighting in Congress

Samiti chairman's election deferred

Congress sweeps samiti poll
Dhaka urged to hand over 88 insurgents
New Delhi, January 28
The Government of India has urged Dhaka to hand over 88 Indian insurgents, who are currently living in Bangladesh, including key insurgents like Sanjit Dev Burman of the All-Tripura 'Tiger Force, Anup Chetia and Paresh Barua of the ULFA.
TRIBUNE SPECIAL
Playing with Punjab's archival records
Patiala, January 28
In its bid to recreate the grandeur of the princely raj of yore, the Patiala Development Authority is playing with the archival records of erstwhile Patiala, Nabha, Faridkot, Malerkotla, Jind, Kapurthala, Nalagarh and Kalsia states.

Archival records stacked in the State Languages Department building in Patiala. — photo Subhash
In Health Tribune today
Sports page
Question mark over Bathinda refinery
January 28, 2003
Fresh threat to Bathinda refinery
January 26, 2003
India, France sign extradition treaty
January 25, 2003
Pak expels four Indian staffers
January 24, 2003
Four Pak Mission staffers expelled
January 23, 2003
Nod to jail term for insulting Tricolour
January 22, 2003
Pak cops harass diplomat again
January 21, 2003
Indian diplomat harassed in Pak
January 20, 2003
LeT turning global
January 19, 2003
Cabinet reshuffle in 2 phases likely
January 18, 2003
Shinde to replace Deshmukh
January 17, 2003