THE TRIBUNE MAGAZINES
On alternate Mondays

On Sundays
On Saturdays
US army chief visits India tomorrow
New Delhi, February 1`
The continuing cross-border terrorism by Pakistan would be on top of the agenda when the US army chief Gen Eric K. Shinseki, holds talks with Indian officials during his short visit to New Delhi on February 3. Officials here said India would convey its serious concerns to the US army chief about the continuing cross-border terrorism.
KIDNEY SCAM
4 docs booked for murder
Amritsar, February 1
Dr Parveen Kumar Sareen, prime accused, his team of doctors and others were booked under Sections 302 and 201 of the IPC for destroying evidence after the death of kidney donor Sudesh Kumar, who had died after the removal of his kidney.
SUNDAY ANCHOR
Shopping complex on green space
"Deal" on change of land use to be reviewed
Amritsar, February 1
The resolution of the Municipal Corporation to change the land use of the prime 'open space', near the District Courts, passed by the General House has raised many eyebrows. Interestingly, one of the four buyers of the land is a gazetted officer of the Local Department. On learning about the 'foul play' in the 'deal' Mr Jasbir Singh Bir, Commissioner, said he would review the case.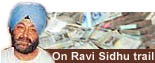 Srinagar-Jammu highway reopened
February 1, 2003

Bathinda Refinery to be speeded up
January 31, 2003
Jaitley, Thakur get Cabinet berth
January 30, 2003
Congress splits in UP
January 29, 2003
Question mark over Bathinda refinery
January 28, 2003
Fresh threat to Bathinda refinery
January 26, 2003
India, France sign extradition treaty
January 25, 2003
Pak expels four Indian staffers
January 24, 2003
Four Pak Mission staffers expelled
January 23, 2003
Nod to jail term for insulting Tricolour
January 22, 2003