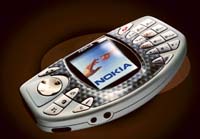 The new OS war zone
Roopinder Singh
THERE are hundreds of different rate slabs that cellphone users here have to deal with. Then there are different technologies like GSM and CDMA, which we have discussed in these columns some time ago. Just to make matters more complicated, there are many different cell phone operating systems that are all vying for various instruments. No wonder the consumers are confounded.
Cellphone terms
SOME of the commonly used terms for mobile phones are explained in the following manner by the Free Online Dictionary of Computing, an excellent resource built by 1,500 volunteers under the guidance of Denis Howe. It can be accessed at: http://foldoc.doc.ic.ac.uk/foldoc
Cellphones with Intel inside
Doug Young
CHIP giant Intel Corp, a relative bit player thus far in the cellphone revolution, is making its first serious foray into chips that lie at the heart of handsets and has enlisted a handful of mid-tier Asian firms to use its design.
Cyberbegging for donations
THEY make their pleas for help via the World Wide Web (WWW). Some are struggling single moms or recent college graduates loaded down with student loans and maxed-out credit cards. Others are childless couples seeking treatment for infertility. One site even makes a pitch for a cat named Buster.
Third Eye to help ONGC in oil hunt
OIL and Natural Gas Corporation (ONGC) has set up 3-D virtual reality centre known as Third Eye at Mumbai and Panvel for real time dissemination and information of onshore and offshore applications. The state-of-the-art centre was inaugurated by Union Minister for Petroleum and Natural Gas Ram Naik.
IT WIT
by Sandeep Joshi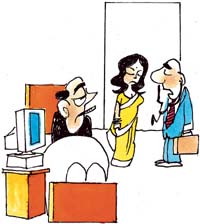 Viral fever! Did computer infect him or did he infect the PC?
For outsourcing, size does matter
Rosemary Arackaparambil
A fresh wave of foreign business is rolling in for India's software industry, where low salary costs and a skilled, English-speaking workforce have made the country a world leader. But it's the big companies that stand to gain most.

Digital signature different from electronic one
Geeta Gulati
WITH economy having undergone a sea change from agrarian to industrial and now cyber economy, the growth of e-commerce has led to the requirement of electronic alternative to handwritten signature. As online business involves both businesses and consumers, items of valuable consideration are being purchased and sold by mutual agreement done electronically, which can have substantial economic consequences.

Hi, Dad! I am en route to Mt. Everest
Sudeshna Sarkar
TECHNOLOGY is now set to climb Himalayan heights. Soon one shall be able to chat up online while scaling the world's highest peak, Mt. Everest. Next month Tsering Gyaltsen Sherpa, grandson of Tenzing Norgay, is to inaugurate a cyber café at a height of 5,300 metres, en route to Everest.
Dotcom crashes as Net cashes
WELL, the dotcom boom has long gone, but the Web still amuses its surfers. People's desire for shopping, banking and generally entertaining themselves on the World Wide Web (WWW) has increased considerably, according to a new survey.
Software shows some promise
IF the pundits are to be believed, the sun is not setting on the Indian software industry. Chastened by a major churn in the IT sector that saw annual growth come down to a conservative 28 per cent as opposed nearly double that in the last decade, the industry is however consolidating.
Slam that spam
T.K. Maloy
OPENING the average e-mail box is often a trip through hundreds of unsolicited and not always alluring advertisements, with nine out of 10 office workers in a recent poll saying they wanted legislation to can all spam. Spam, as all unsolicited e-mail is known, has grown from a trickle several years ago to a virtual torrent.