THE TRIBUNE MAGAZINES
On alternate Mondays

On Sundays
On Saturdays
IN PASSING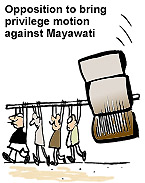 by Sandeep Joshi
The Punjab Chief Minister, Capt Amarinder Singh, congratulates Himachal Chief Minister Virbhadra Singh after the oath ceremony at Raj Bhavan in Shimla on Thursday. Also in the picture is Mrs Mohsina Kidwai, General Secretary of the AICC.
— Tribune photo Karam Singh
Himachal page: Cabinet expansion after Budget session: CM

Corrupt voted out in HP: Amarinder
Zaffarwal acquitted in 6th case
Declaration of 'Khalistan' from Takht
Amritsar, March 6
Terrorist Wassan Zingh Zaffarwal, self-styled chief of the "Khalistan" Commando Force who was allegedly responsible for hundreds of killings during militancy, could be a free man soon as the public prosecution failed to submit evidence leading to his acquittal in the sixth case, out of a total of eight cases registered against him.


Self-styled chief of "Khalistan" Commando Force Wassan Singh Zaffarwal comes out of the District Courts, Amritsar, on Thursday.
— Photo Rajiv Sharma
10 soldiers killed in avalanches
Srinagar, March 6
At least 10 soldiers were killed and seven others reported missing in avalanches in the Kargil sector today. Official sources said that at least five soldiers were killed when their bunker was buried under a avalanche at Kharboo on the Kargil-Leh national highway early this morning.
Nation page: 7 ITBP men killed


TRIBUNE SPECIAL
Plot behind Pakistan Air chief's plane crash
New Delhi, March 6
Pakistan's Air Chief Mushaf Ali Mir, who was among 17 killed in a mysterious aircrash about a fortnight ago, may well have been the victim of a political conspiracy, according to classified information received here through diplomatic channels.
In Career Guide today
Sonia clears HP Cabinet
March 6, 2003
Virbhadra to be CM
March 5, 2003
Advantage Virbhadra
March 4, 2003
Infighting led to BJP ouster: Vajpayee
March 3, 2003
Cong captures power in HP
March 2, 2003
Standard deduction up, IT surcharge goes
March 1, 2003
GDP growth pegged lower at 4.4 pc
February 28, 2003
Rail fares, freight rates untouched
February 27, 2003
I will not destroy missiles: Saddam
February 26, 2003
India, Pak clash at NAM
February 25, 2003
Sants to gherao Parliament today
February 24, 2003
Sansad to intensify stir
February 23, 2003
SC to hear Ayodhya case on March 6
February 22, 2003