HOROSCOPE
THE TRIBUNE MAGAZINES
On alternate Mondays

On Sundays
On Saturdays
Excavation: shell, stone found
Hand over land: VHP
Ayodhya, March 13
On the second day of excavation of the disputed site here, archaeologists came across a "shell" and "basal" and few brick marks of 1920s vintage even as the VHP dismissed the exercise as tedious and demanded the return of the acquired land on the basis of earlier evidence.
Blast in bus kills 4 at Rajouri
Army called in as mob turns violent
Rajouri, March 13
Militants set off a powerful improvised explosive device IED in a bus, killing four persons, including a man and his daughter, and injuring 33 here today. Army's help has been sought stop a violent protest against the strike by the militants.
Another expansion in four months, says Amarinder
New Delhi, March 13
The Punjab Chief Minister, Capt Amarinder Singh, said today that state Cabinet would be expanded again after "three-four" months.
SAD to boycott Governor's Address
Chandigarh, March 13
The SAD has decided to stage a walkout from the Punjab Vidhan Sabha tomorrow afternoon when the Governor, Lt-Gen. J.F.R. Jacob (retd.), delivers his Address at the start of the Budget Session.

US-64 investors to get option
New Delhi, March 13
The government will offer to buy back the units of Unit Trust of India's flagship scheme US-64 in cash or give the investors an option to convert them into five-year tax-free bonds bearing an interest rate of 6.75 per cent from May this year.


Godhra carnage report tabled
New Delhi, March 13
A detailed report on the Godhra carnage, including names of 62 passengers of whom 59 died in the fire in Sabarmati Express on February 27 last year, was tabled by Railway Minister Nitish Kumar in the Lok Sabha today. The task of identifying the passengers was a "massive exercise", the report said.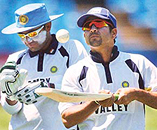 Sachin Tendulkar plays with his bat while Virender Sehwag puts on batting gloves for a practice session in Pretoria, South Africa, on Thursday. India will play their third Super Six cricket World Cup match against New Zealand on Friday.
— AP/PTI

PM against war without UN nod
March 13, 2003
Jaswant rolls back urea price hike
March 12, 2003
5 more join Punjab Ministry
March 11, 2003
Cong victorious in civic poll
March 10, 2003
ULFA ultras bomb Digboi Refinery
March 9, 2003
Women's Reservation Bill in current session
March 8, 2003
SC reserves verdict on Ayodhya
March 7, 2003
Sonia clears HP Cabinet
March 6, 2003
Virbhadra to be CM
March 5, 2003
Advantage Virbhadra
March 4, 2003