THE TRIBUNE MAGAZINES
On alternate Mondays

On Sundays
On Saturdays
India pull out of Azlan Shah hockey
New Delhi, March 17
India today pulled out of the prestigious Azlan Shah Cup Hockey Tournament in Malaysia in the wake of the recent ill-treatment of Indian IT professionals in that country.
Marandi quits, Munda new leader
Ranchi, March 17
Mr Arjun Munda was chosen as the new leader of the NDA Legislature Party in Jharkhand at a meeting of coalition partners here this evening. He replaces Mr Babulal Marandi who stepped down this morning.
2 kidnapped cops slain, two escape
Six Hizbul men shot in Doda
Jammu, March 17
Two of the four policemen kidnapped by militants after the attack on a police post in Udhampur district have been killed, while two others have managed to escape after the incident that left 11 dead late on March 15, an official spokesman has said here today.
Digvijay meets Lyngdoh
New Delhi, March 17
Madhya Pradesh Chief Minister Digvijay Singh today maintained that the suspension of three District Collectors, as ordered by the Election Commission, for alleged irregularities in voter lists could be made only after charge sheets were framed against them by the commission.


Edit page: Bogus voters


Charges framed against Rathore
Ambala, March 17


The special Magistrate for CBI cases in Haryana, Mr Surya Pratap Singh, today framed charges against former Director General of Police, Haryana, Mr SPS Rathore, in the Ruchika molestation case. The notice of accusation for the offence punishable under Section 354 of the IPC was read over.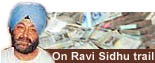 11 killed in attack on police post
March 17, 2003
Excavation leads to mosque floor
March 16, 2003
Gujarat tense; 10 hurt in Muharram violence
March 15, 2003
SC: poll reforms law unconstitutional
March 14, 2003
PM against war without UN nod
March 13, 2003
Jaswant rolls back urea price hike
March 12, 2003
5 more join Punjab Ministry
March 11, 2003
Cong victorious in civic poll
March 10, 2003
ULFA ultras bomb Digboi Refinery
March 9, 2003
Women's Reservation Bill in current session
March 8, 2003
SC reserves verdict on Ayodhya
March 7, 2003
Sonia clears HP Cabinet
March 6, 2003
Virbhadra to be CM
March 5, 2003