THE TRIBUNE MAGAZINES
On alternate Mondays

On Sundays
On Saturdays
IN PASSING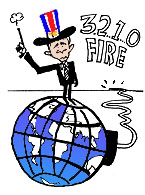 by Sandeep Joshi
SPECIAL EDITORIAL
The road to nowhere
Hari Jaisingh
War as an instrument of policy can never solve a problem. This is an elementary lesson the history of global wars has taught human beings. Still, certain wars are either thrust or are born of sheer necessity to fight "evil forces".
---
PM conveys anguish to Bush
New Delhi, March 20


Prime Minister Atal Behari Vajpayee tonight conveyed to US President George W. Bush "deep anguish" over UN Security Council's failure to agree on the best means of disarming Iraq and hoped that the military action would "conclude at the earliest".


India reacts angrily
Nation page:

Parties deplore attack

Evacuation of Indians 'yet to start'


Sports page:
India tame Kenyan lions



Indian captain Sourav Ganguly celebrates his century against Kenya during their Cricket World Cup Semi Final match at Kingsmead in Durban on Thursday.
— Reuters photo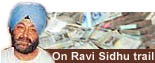 Saddam put on 48-hour notice
March 19, 2003
War clouds thicken; USA, UK shed diplomacy
March 18, 2003
11 killed in attack on police post
March 17, 2003
Excavation leads to mosque floor
March 16, 2003
Gujarat tense; 10 hurt in Muharram violence
March 15, 2003
SC: poll reforms law unconstitutional
March 14, 2003
PM against war without UN nod
March 13, 2003
Jaswant rolls back urea price hike
March 12, 2003
5 more join Punjab Ministry
March 11, 2003
Cong victorious in civic poll
March 10, 2003
ULFA ultras bomb Digboi Refinery
March 9, 2003
Women's Reservation Bill in current session
March 8, 2003
SC reserves verdict on Ayodhya
March 7, 2003
Sonia clears HP Cabinet
March 6, 2003
Virbhadra to be CM
March 5, 2003