HOROSCOPE
THE TRIBUNE MAGAZINES
On alternate Mondays

On Sundays
On Saturdays
IN PASSING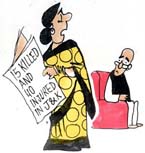 SARS — Does it mean Smash A Rogue State?
by Sandeep Joshi
200 Dalits forced to leave village
New Delhi, April 26
After Dulina, it is the turn of Harsoula Dalits to face the ire of dominant Jat community, who have allegedly forced the depressed section of society to leave the village following differences over the Ravidas Jayanti celebrations.
Satta expose: probe extended to senior cops
Ludhiana, April 26
The role of certain senior police officers in the police-pay off video disclosure will also be probed by the vigilance wing of the Police Department. The department has already ordered a vigilance probe into the role of junior police personnel shown in the videofilm.


Ludhiana page: Cops' remand extended
A-I suspends 12 pilots
Mumbai, April 26
Taking a tough stand, the government today decided to place under suspension 12 Air India (A-I) pilots after the Indian Pilots Guild (IPG) refused to withdraw the directive for operating in SARS-affected areas.

In Video (28k, 56k)

Nation page: 3 more SARS cases

Punjab page: SARS suspect in Fazilka
PMT PAPERS LEAK
DGP seeks probe report from SSP
Amritsar, April 26
The Punjab Police Chief M.S. Bhullar has sought a complete report from the SSP here on the CBSE PMT paper leak scam for submitting it to the CBSE chief Mr Ashok Ganguly.


CBSE SCAM
PMT favours the affluent
Chandigarh, April 26
Tomorrow when 2,47,743 students take the entrance test for admission to medical colleges against 2200 seats reserved for the CBSE candidates, no one will know as to how many of the meritorious students will get knocked out by a deep-rooted network of "touts and agents" who offer "seats for cash." This time the test will be conducted at 432 centres simultaneously.
Day of terror in Kashmir
April 26, 2003
21 crore relief for Uphaar victims
April 25, 2003
PM open to talks on Kashmir issue
April 24, 2003
17 Pak ultras shot in encounters
April 23, 2003
'Politics of revenge' rocks Parliament
April 22, 2003
7 LeT men shot while crossing border
April 21, 2003
Ball in Pakistan's court, says PM
April 20, 2003
PM offers friendship to Pakistan
April 19, 2003
Talks with truckers fail
April 18, 2003
USA blocks Iraq-Syria pipeline
April 17, 2003