HOROSCOPE
THE TRIBUNE MAGAZINES
On alternate Mondays

On Sundays
On Saturdays
IN PASSING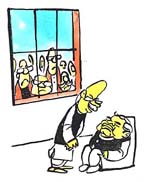 We will have to create more states to accommodate all of them as Governors.

by Sandeep Joshi
Sonia revamps Congress
Appoints PAC, 2 more gen secys, Ambika relieved
New Delhi, May 2


Gearing up the party for the Assembly elections later this year and the Lok Sabha poll, Congress President Sonia Gandhi today inducted two more general secretaries, expanded the Congress Working Committee and created a 12-member Political Affairs Committee for regular interaction on the party's political strategy.
Verma new Punjab Governor, Kokje Himachal's


New Delhi, May 2
Ending prolonged suspense, the Centre today appointed Lt-Gen S.K. Sinha (retd) as Governor of Jammu and Kashmir, shifting him from Assam, and named senior BJP leaders Kailashpati Mishra and Ram Prakash Gupta as Governors in Gujarat and Madhya Pradesh along with new faces for Punjab, Himachal Pradesh and Rajasthan.


Verma Punjab's 30th Governor
India remains China cautious
New Delhi, May 2
Despite Defence Minister George Fernandes' claim that his recent visit to China was "very good" and great interest was being generated about the forthcoming visit of Prime Minister Atal Behari Vajpayee to the northern neighbour, New Delhi continues to be cautious of Beijing.


SARS boosts tourism in Himachal, claims minister
Shimla, May 2
The scare of SARS notwithstanding, summer revellers have been making a beeline to the hills. The tourist season has begun on an encouraging note with a record number of tourists arriving in the state during April. Major Vijay Mankotia (retd), Tourism Minister, told reporters here today that hotels in the state recorded 50 to 80 per cent occupancy against the normal 25 to 30 per cent.
RSS cautions govt on talks with Pak
May 2, 2003

FM rules out VAT from June 1
May 1, 2003

PM raises terrorism issue with Jamali
April 30, 2003
A-I charge-sheets 12 pilots
April 29, 2003
Mayawati meets PM over cane price
April 28, 2003
Ultras attack Radio Kashmir complex
April 27, 2003
Day of terror in Kashmir
April 26, 2003
21 crore relief for Uphaar victims
April 25, 2003
PM open to talks on Kashmir issue
April 24, 2003
17 Pak ultras shot in encounters
April 23, 2003