HOROSCOPE
THE TRIBUNE MAGAZINES
On alternate Mondays

On Sundays
On Saturdays
IN PASSING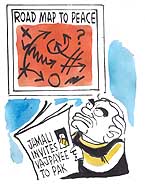 by Sandeep Joshi
A man, who had come to Reasi to listen to Ms Sonia Gandhi on Saturday, sleeps at the venue of the public meeting as her visit was cancelled due to poor visibility.
— Photo Sarabjit Singh
Punjab may hike bus fares
Chandigarh, May 3
The Punjab Government is considering a proposal for a 10 per cent hike in bus fares in the state. The hike in bus fares is regarded as a politically sensitive issue. Therefore, the government is taking its own time to examine all aspects of the proposal.
Non-bailable warrant against Khatri, Khattar
New Delhi, May 3
A Delhi court today issued non-bailable arrest warrant against absconding hotelier Vinod Khatri, charged with bribing former High Court Judge Shamit Mukherjee to pass a judgement in his favour.
Two Lashkar camps busted
Mumbai, May 3
The police busted two terrorist training camps backed by militant outfit Lashkar-e-Toiba and seized a huge hidden reserve of lethal weapons, including four Kalashnikov assault rifles and dangerous chemicals, during operations on the outskirts of the city in the past two days.


AIDS claims 17 lives
Ropar, May 3
The apprehensions about the threat posed by the AIDS virus seem to be coming true. Although the Health Department of the state has claimed that Ropar is an AIDS-free district, an NGO working on the AIDS awareness programme in Anandpur Sahib block has recorded 17 deaths due to the virus in the current year.
India renews peace initiative
May 3, 2003

RSS cautions govt on talks with Pak
May 2, 2003

FM rules out VAT from June 1
May 1, 2003

PM raises terrorism issue with Jamali
April 30, 2003
A-I charge-sheets 12 pilots
April 29, 2003
Mayawati meets PM over cane price
April 28, 2003
Ultras attack Radio Kashmir complex
April 27, 2003
Day of terror in Kashmir
April 26, 2003
21 crore relief for Uphaar victims
April 25, 2003
PM open to talks on Kashmir issue
April 24, 2003